StudioCanal has announced the Home Entertainment release of Justin Kurzel's critically acclaimed adaptation of Macbeth. Recently nominated for a fantastic six MBIFAs (Moet British Independent Film Awards) including Best Director, Best British Independent Film, Best Actor, Best Actress, Best Supporting Actor and Outstanding Achievement in Craft (Cinematography), Macbeth arrives on UK DVD, Blu-ray and Limited Edition Steelbook on 1st February, preceded by a Digital HD release 25th January.
Macbeth is the story of a fearless warrior and inspiring leader brought low by ambition and desire. A thrilling interpretation of the dramatic realities of the times and a reimagining of what wartime must have been like for one of Shakespeare's most famous and compelling characters, a story of all-consuming passion and ambition, set in war torn Scottish landscape.
Macbeth is Justin Kurzel's visionary adaptation of the most famous of Shakespeare's dramas, a thrilling war-epic charting the deadly effects of one man's ruthless ambition. Demonstrating the same command of landscape and character that defined his critically acclaimed debut Snowtown, Justin Kurzel has been highly praised for this vividly contemporary imagining of the tragic hero.
Lauded by international critics on the film's theatrical release, Michael Fassbender (12 Years A Slave) creates a sympathetic portrayal of even Macbeth's darkest hours. Alongside him is Marion Cotillard (La Vie En Rose) delivering a magnetic, nuanced projection of one of the most famous and complex female characters in British literature. Making the stunning and atmospheric Scottish landscape such a vital, glowering presence in the film is Adam Arkapaw delivering the Cinematography.
No less vital are the outstanding supporting cast bringing the war-torn community of characters so vividly to life. David Thewlis (Naked, the Harry Potter series) gives a tragic performance as the soon-to-be-slain King Duncan, whose death sets Macbeth and Lady Macbeth on their inexorable road to power. Playing his son, the returning Hero Malcolm, is rising Irish star Jack Reynor (What Richard Did), and giving an emotionally charged interpretation of Banquo is Paddy Considine, as Macbeth's closest friend, whose loss deprives him of the last force for good in his life. Sean Harris (Prometheus) delivers a blistering performance as Macduff, Macbeth's nemesis, and harbinger of the Witches long-prophesied downfall.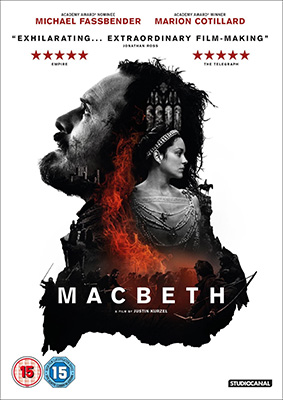 Macbeth will be released on UK Blu-ray and DVD on 1st February 2016 by StudioCanal at the RRP of £24.99 for the Blu-ray and £19.99 for the DVD. The film will be released a week earlier on 25th January 2016, also from StudioCanal, of course.
Special features:
Interview with Director Justin Kurzel – new & exclusive

The Special Effects of Macbeth – new & exclusive

Re-imagining of a classic featurette

Macbeth, Casualty of War featurette

Lady Macbeth featurette