Acting legends Tim Roth and Gary Oldman play the titular leads, alongside Hollywood great Richard Dreyfuss in the award-winning Rosencrantz & Guildenstern Are Dead, the big-screen adaptation of Tom Stoppard's renowned play which is coming to DVD in a brand new remastered version courtesy of RLJ Entertainment.
Winner of the prestigious Venice Film Festival Golden Lion award, Tom Stoppard's hilarious directorial debut follows two lesser-known characters from Shakespeare's Hamlet. To celebrate its 25th Anniversary, the film comes to DVD in a stunning special edition two-disc set, on 8 February 2016, complete with more than three hours of bonus features including interviews with Tom Stoppard, Tim Roth, Richard Dreyfuss and Gary Oldman.
In this cleverly inspired version, these Shakespearean equivalents of Laurel and Hardy get a chance to take the lead roles in a setting where illusion and reality overlap. Critically acclaimed and featuring sharp-witted performances by Dreyfuss, Roth and Oldman, this is a film that invites us to 'look on every exit as being an entrance somewhere else', if only to discover that Rosencrantz and Guildenstern really are dead.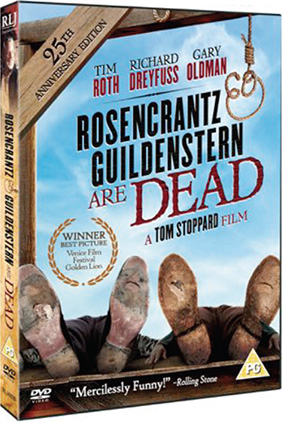 Rosencrantz & Guildenstern Are Dead will be released on UK DVD as a 2-disc edition on 8th February 2016 by RLJ Entertainment at the RRP of £19.99.
Special features announced so far:
25th Anniversary interview with Tom Stoppard

Interviews with Tim Roth, Gary Oldman, Richard Dreyfuss and more (2004)