Arrow Video has announced the release of What Have You Done to Solange?, Massimo Dallamano's (cinematographer on both A Fistful of Dollars and For a Few Dollars More) classic giallo which comes to Blu-ray and DVD in a brand-new 2K transfer taken from the films original negative.
A sexually sadistic killer is preying on the girls of St. Mary's school. Student Elizabeth witnessed one of the murders, but her hazy recollections of a knife-wielding figure in black do nothing to further the police's investigations. Why is the killer choosing these young women? And what does it have to do with a girl named Solange?
Also starring Cristina Galbo (Living Dead at the Manchester Morgue) and Fabio Testi (I Spit On Your Grave), What Have You Done with Solange? features all the hallmarks of classic gialli – the amateur detective, the black-gloved killerl – as well as a lush score from Ennio Morricone.
Scored by Ennio Morricone, What Have You Done to Solange? was the debut feature for actress Camille Keaton (I Spit on Your Grave). The new disc comes loaded with features including a newly recorded audio commentary with critics Alan Jones and Kim Newman, a newly edited archive interview with actor Fabio Testi and a reversible sleeve featuring original and newly commissioned artwork by Malleus.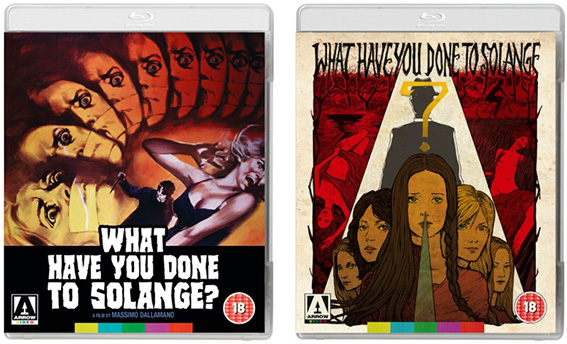 What Have You Done to Solange? will be released on UK dual format (Blu-ray and DVD) on 14th December 2015 by Arrow Video at an as-yet to be confirmed RRP, but it's £17.99 at the Arrow Store.:

Disc details:
Brand new 2K restoration of the film from the original camera negative

High Definition Blu-ray (1080p) and Standard Definition DVD presentations

Original Italian and English soundtracks in mono audio

Newly translated English subtitles for the Italian soundtrack

Optional English subtitles for the deaf and hard of hearing for the English soundtrack
Special features:
Brand new audio commentary with critics Alan Jones and Kim Newman

What Have You Done to Decency? A conversation with Karin Baal – the actress shares her thoughts on Dallamano's classic giallo in this brand new interview

First Action Hero – a newly-edited 2006 interview with actor and former stuntman Fabio Testi, including a look at his role in Solange

Old-School Producer – a newly-edited 2006 interview with producer Fulvio Lucisano

Innocence Lost: Solange and the "Schoolgirls in Peril" Trilogy – a brand new visual essay by Michael Mackenzie, exploring the themes of Solange and its two semi-sequels

Original theatrical trailer

Reversible sleeve featuring original and newly commissioned artwork by Malleus

Collector's booklet featuring a new article on the giallo scores of Ennio Morricone by Howard Hughes, alongside a Camille Keaton career retrospective from Art Ettinger, comprising interview excerpts with the Solange actress, all illustrated with original archive stills and posters