After an unexpected mental breakdown, seven month pregnant Jennifer Branagan reluctantly returns to her hometown in Kansas with her husband Luke for the arrival of their baby. Struggling to cope with fears of motherhood, a strained relationship with her husband and the presence of an overbearing mother, Meredith, Jennifer is losing control of her life.
But what begins with objects moving behind her back and unexplained knocking sounds, soon escalates into something far more sinister and threatening. Jennifer fears the house is haunted yet alone in her convictions, she is forced to question her own sanity. Is she losing her mind, or is there a dark entity within the house that is all too real?
The House on Pine Street was directed by Aaron and Austin Keeling and was winner of Best Feature Film at Kansas International Film Festival and New Orleans Horror Film Festival and stars Emily Goss (An Emotional Affair), winner of Best Actress at Blue Whiskey Independent Film Festival and Fargo Film Festival.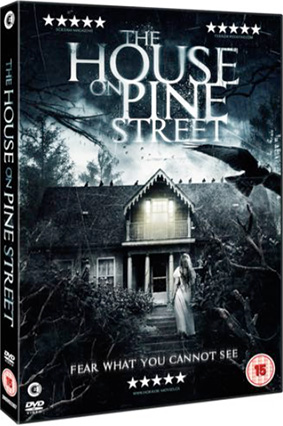 Described by Variety as "Creepy and atmospheric," and Scream Magazine as "What all haunted house movies should strive to be," chilling tale of a disturbed dwelling with a ghostly lore makes its UK DVD debut on 1st February 2016 courtesy of Second Sight at the RRP of £14.99.
No special features have been listed, but here's a trailer: