Like most teenage girls, Minnie Goetze (Bel Powley) is longing for love, acceptance and a sense of purpose in the world. Her hard-partying mother (Kristen Wiig) and absent father (Christopher Meloni) have left her rudderless, and she's fallen in love with her mother's boyfriend, Monroe (Alexander Skarsgard). As she finds solace in his seductive smiles and her animation, she emerges defiant.
Based on the graphic novel by Phoebe Gloeckner and directed by Marielle Heller, this unique coming-of-age film tells the story of an imaginative teenage artist (Powley) as she navigates through her teenage years against the backdrop of 1970s San Francisco.
Starring UK actress Bel Powley in a break out role as the audacious teen Minnie, the film also boast a solid supporting cast including Alexander Skarsgard (True Blood) and Kristen Wiig (Bridesmaids).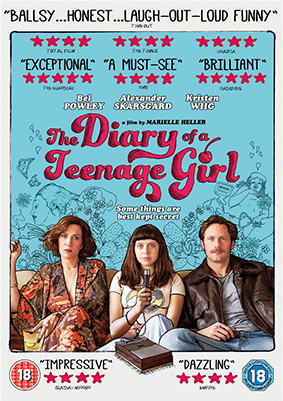 Described by The Guardian as a "a scaldingly honest coming-of-age comedy," Diary of a Teenage Girl will be released on UK DVD on 11th January 2016 from Entertainment One and Vertigo Releasing at a yet to be confirmed RRP.
Special features:
The Diary Of A Teenage Girl – A Look Inside