StudioCanal has announced the release of a brand new box set of the films of cinema's original enfant terrible, Jean-Luc Godard, one of the leaders of the French New Wave, a key influence on the American cinema of the 1970s and one of the few true auteurs in cinema, this new five disc collection includes Breathless, Le mépris, Pierrot le Fou, Alphaville and Une femme est une femme, plus over six hours of extras material including brand new interviews with Anna Karina and a booklet featuring essays on each film from critics and directors.
Born in Paris in 1930, Godard came from a bourgeois Franco-Swiss family, where he attended school until his parents divorced in 1948 and he moved to Paris. A contemporary of François Truffaut, Eric Rohmer and Jacques Rivette, Godard first became involved in cinema through literary criticism, writing several articles under the pseudonym Hans Lucas. After supplying funding to films by Rivette and Rohmer, with whom he had also founded a 'Gazette du Cinema' for their writing, Godard's family withdrew their financial support, and he took to living a Bohemian lifestyle, often stealing food and money when necessary. After becoming a scriptwriter and having made several short films, Godard made his memorable directorial debut in 1959 with À bout de souffle, cementing his reputation (earned from his articles and screenplays) as being at the forefront of La Nouvelle Vague.
BFI Southbank will host a season dedicated to Jean-Luc Godard from 1st January – 16 March 2016; the centrepiece of the season will be an extended run of the BFI re-release of Le Mépris, in selected cinemas across the UK from 1st January.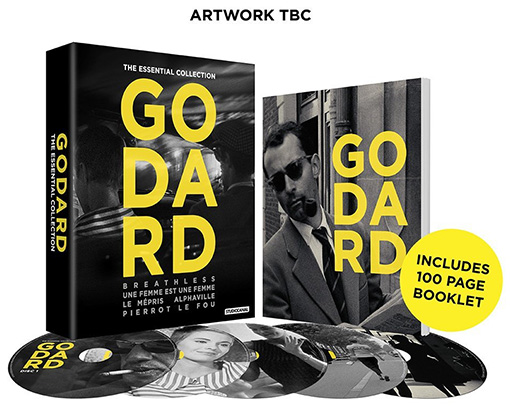 Godard: The Essential Collection will be released as a five disc Blu-ray box set on 25th January 2015 by StudioCanal at a yet to be confirmed RRP, although Amazon are taking pre-orders at £69.99.
The contents are as follows:

Breathless [À bout de souffle] (1959)
Stylish and sexy, Breathless [À bout de souffle] is the epitome of cinematic cool. A fast tale of a young man on the run in Paris at the end of the 50's, Breathless shook up the film world upon its release and has made a lasting impression on cinema history. Starring Jean Paul Belmondo, the film was produced by Godard from an original treatment by François Truffaut in a production that united the four initiators of the 'Nouvelle Vague' – Claude Chabrol acted as artistic director while acclaimed director Jean Pierre Melville appeared in front of camera.
Special features:
Introduction by Colin McCabe (5 min)

Godard, Made in USA (51 min)

Room 12. Hotel de suede (79 min)

Jean-Luc according to Luc (8 min)

Jefferson Hack Interview (8 min)

Tempo Godard Episode (17 Min)

Jean Seberg Featurette (12 Min)

Trailer (3 min)

Posters

Une Femme est une femme [A Woman is a Woman] (1961)
Angela (Anna Karina) is a stripper living in Paris with her husband, Emile (Jean-Claude Brialy), who is a bookseller. She wants a child, he doesn't. Emile's obsession with cycling interferes with the love of his wife. Angela embarks on a dangerous game to try and reignite Emile's passion for her, by involving Alfred (Jean-Paul Belmondo), a good friend of theirs, in her quest for a baby. Alfred is in love with Angela and, it seems, more than willing to be the third corner of his love triangle. Written and directed by Godard, the film was his second, winning both him and his wife Anna Karina awards at that year's Berlin Film Festival.
Special features:
Anna Karina interview – new extra (duration: TBC)

Introduction by Colin McCabe (4 min)

Photo Gallery

Posters

Le mépris [Contempt] (1963)
Paul Javal (Michel Piccoli) is hired by an American producer Prokosch (Jack Palance) to commercialize director Fritz Lang's adaptation of The Odyssey, about to begin shooting in Rome. Whilst attempting the rewrite in Capri, Javal's wife Camille (Bardot) spends an unexplained hour in the company of Prokosch, possibly at the behest of her husband, although this is never made clear. This sets off an argument between the couple that hints at deeper problems within the marriage and the contempt Camille feels for her husband.
Special features:
Introduction with Colin McCabe (6 min)

Once Upon A Time There Was...Contempt (53 min)

Contempt...tenderly (32 min)

The dinosaurs and the baby (61 min)

Conversation with Fritz Lang (15 min)

Trailer (3 min)

Pierrot le Fou (1965)
Based on Lionel White's novel Obsession, Pierrot le Fou is the story of a bored husband who runs away from Paris to the South of France with an unpredictable but beguiling young babysitter (Anna Karina) after a corpse is found in her flat. After an idyllic time at the seaside they hit the road once more and get by from stealing, soon becoming embroiled in the machinations of two rival gun running gangs and a man who may or may not be the girl's brother. Belmondo was nominated for a BAFTA for his perfomance in this tragic tale of a romantic couple who cannot escape fate no matter how far they flee.
Special features:
Anna Karina interview – new extra (duration: TBC)

Introduction by Colin McCabe (4 min)

Godard, Love and Poetry (53 mins)

Film Analysis by Jean-Bernard Pouy

Trailer (2 min)

German TV advert (4 min)

Posters

Alphaville (1965)
Written and directed by Godard, Alphaville is the strangely beautiful futuristic tale of Lemmy Caution, an American private eye sent to a planet ruled by Von Braun, a malevolent scientist who has outlawed human emotions in favour of logic. The film deals with the fight between indivualism in face of inhumanity and blind conformity, and won the Golden Bear award of the Berlin Film Festival in 1965.
Special features:
Anna Karina interview - new extra (duration: TBC)

Introduction by Colin McCabe (5 min)

Posters

Trailer