Alain Resnais' first feature Hiroshima mon amour, which André Malraux acclaimed as the most beautiful film he had ever seen, brought Resnais instant fame and has become an enduring classic of film history. A complex study of a troubled relationship set in post World War II Japan, Emmanuelle Riva (Amour) stars as a young French actress who is in Hiroshima for the shooting of a film about peace. She meets a Japanese architect, played by Eiji Okada (The Ugly American), who reminds her of a former lover, a German soldier. The haunting affair is overshadowed by memories of the Bomb.
Scripted by acclaimed novelist Marguerite Duras (The Lover) and celebrated for it's originality, particularly through the use of flashbacks, Hiroshima mon amour is a game changer in the world of French cinema, part of the French New Wave cinema, the use of flashbacks created a uniquely nonlinear storyline.
As well as pioneering the rise of New Wave cinema, Hiroshima mon amour was a turning point in Alain Renais' career, consolidating his already established reputation for directing short films, including the controversial documentary Night and Fog. Hiroshima mon amour paved the way for Renais' award-winning career, including acclaimed films Last Year at Marienbad and Smoking / No Smoking, which stretched six decades until his death in 2014.
Digitally restored to its pristine original picture quality on Blu-ray and DVD, Hiroshima mon amour, which was nominated for Best Screenplay at the 1961 Academy Awards, is one of the most influential films of all time; a masterwork that delicately weaves past and present, personal pain and public anguish.
A 4K restoration of the film was undertaken in 2013 by Argos Films, the Technicolor Foundation, the Groupama Gan Foundation and Cineteca di Bologna from the original camera negative with the generous support of the CNC (or Centre National du Cinema). The work was carried out at L'Immagine Ritrovata, Cineteca di Bologna's restoration lab, and overseen by DP Renato Berta.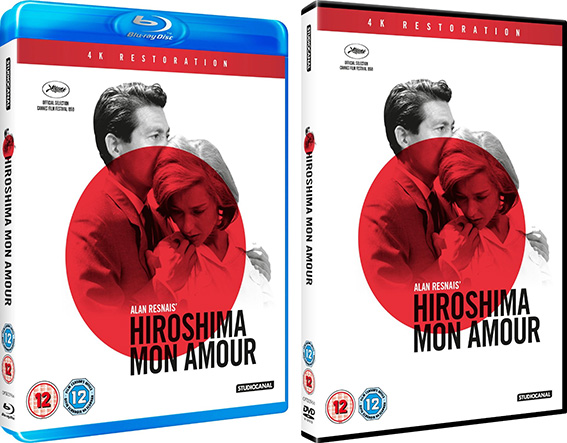 Hiroshima mon amour will be released on UK Blu-ray and DVD on 18th January 2015 by StudioCanal at a yet to be confirmed RRP.
Special features: