A dreary prison cell is shared by two men who, in terms of lifestyle, could not be further apart. Molina (William Hurt) is a homosexual convicted for 'obscene behaviour', the other, Valentin (Raul Julia), is a revolutionary who has been continually tortured by the same totalitarian authorities.
As the minutes slowly pass, Molina invents a story based on the glamorous cinema of yesteryear - a Nazi propaganda film involving an unlikely love affair. At first, this extravagant display of personality doesn't bode well for the cellmates' relationship but as time and the story progresses a new kind of friendship begins to blossom.
Directed by Hector Babenco (Pixote, Ironweed) and featuring an extraordinary, Oscar-winning performance from William Hurt, Kiss of the Spider Woman has proven to be a truly timeless classic.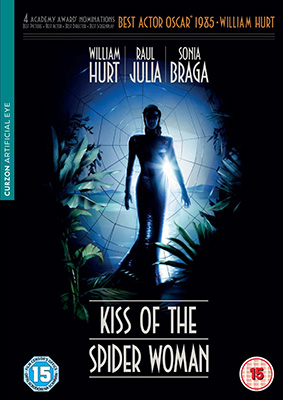 Kiss of the Spider Woman will be released on UK Blu-ray and DVD on 25th January 2015 by Curzon Artificial Eye at the RRP of £19.99 for the Blu-ray and £15.99 for the DVD.
Special features:
Tangled Web: Making Kiss of the Spider Woman

Theatrical trailer

Manuel Puig Mini-Documentary: The Submissive Woman's Role

Slide Show commentary: Transition from Novel to Film

Photo Galleries: Over 150 Images