Third Window Films, who have recently been spoiling us with excellent Blu-ray editions of Shinya Tsukamoto films, have announced the early 2016 Blu-ray release of three films from fellow Japanese maestro Takeshi Kitano: Hana-bi, Kikujiro and Dolls.
All will feature new 2K remasters from Office Kitano, and the first 1000 copies of each feature cardboard slipcases with new illustrated artwork by Marie Bergeron supported by Filmdoo's Film Creativity Competition.
For those of you not familiar with Kitano's filmography, Third Window have provided this handy biography, which we've expanded jusy slightly and included links to relevant DVD reviews. Skip down for details of the discs themselves.
The success of Hana-Bi (literally 'fire-flower', the poetic Japanese name fort fireworks) confirmed Takeshi Kitano as a leading figure of international cinema. Among its numerous awards, Hana-Bi won the Golden Lion at the 1997 Venice Film Festival and was named Best Non-European Film at the 1997 European Film Academy Awards. Hana-Bi was cited on numerous "Best Films of the Year" lists, often in the premiere position.
Whether as director, actor, writer, artist, TV personality or stand-up comic, Takeshi Kitano has not simply sought out to challenge his audiences. He has always sought out challenges for himself. With 1989's Violent Cop, Kitano made his directorial debut unexpectedly. When the scheduled director dropped out, Kitano, the project's leading actor, was signed on for replacement. Without previous directorial experience, Kitano revised the script entirely and imposed a sharp and ironic style, later acclaimed for its maturity and its sense of space and framing.
Violent Cop, and other Kitano-helmed films such as Boiling Point [3-4 x jûgatsu] (1990) and Sonatine (1993), centered around yakuza gangster characters. Although they became international cult favorites, they also branded the director-writer with a burdensome trademark for graphic violence and Kitano cool. In retaliation with A Scene at the Sea [Ano natsu, ichiban shizukana umi] (1991), Getting Any? (1995) and Kids Return (1996), however, Kitano earned praise for his daring changes in directorial style and subject.
With A Scene at the Sea, Kitano's on-screen presence was absent, as well as the violence which had highlighted his first two films. The poignant story of a deaf adolescent and his passion for surfing showed other facets of Kitano's talent – a discreet emotional sense and a tender point of view toward young people, innocence and marginal existence. A Scene at the Sea also marked the debut of what was to become a longtime collaboration with musician-composer Joe Hisaishi, whose haunting melodies perfectly complement the filmmaker's universe.
Getting Any? served as an absolute about-face to Sonatine, which brought Kitano significant international attention after its presentation at the 1993 Cannes Film Festival (A Certain Regard). In Getting Any?, Kitano, for the first time, tried to integrate into a feature film the sense of absurdity and satiric delirium representative of his comedic TV personality. The result was a screamingly funny and mocking vision of the auto-destruction and obsessions of Japanese society.
In Kids Return (1996), his sixth film, Kitano transposed his own adolescence to contemporary Tokyo for a touching look at two young men torn between boxing and underworld crime. The film was his first after a long convalescence from a near-fatal motorcycle accident in August 1994. Kids Return, produced by Office Kitano (the company founded by the director and long-time producer Masayuki Mori) without any studio backing, was presented by the Directors' Fortnight at the 1996 Cannes Film Festival.
As a performer, Kitano is perhaps better known as "Beat Takeshi," a stage name he received in the mid-1970s as part of the manzai comedy duo "The Two Beats." (Kitano paid tribute to those comedy club debuts in Kids Return. Also, in Kikujiro, Beat Takeshi is reunited with the second beat, Beat Kiyoshi, who plays a man harassed by the character of Kikujiro at an abandoned bus stop.) As a stand-up comic, Kitano's routine was simultaneously unprecedented manzai: rapid-fire delivery and deft comments that punctured the spectator's sensibility.
In 1980, "Beat Takeshi" began his evolution into a television personality. Regardless of the program content, he discreetly imposed his mix of satiric commentary on current events and more direct forms of absurdity. From scientific programs to late night shows dominated by sex and zany comedy, his rise culminated in the participation of nine different shows per week. By the early 1980s, the comic and insolent provocator "Beat Takeshi" had become a national star.
After a few comic cameos in Japanese feature films in the early 1980s, Kitano won international attention for his role as the brutal, yet sentimental, Sergeant Hara in Nagisa Oshima's Merry Cristmas Mr. Lawrence (1983). His other non-self- directed feature credits include Robert Longo's Johnny Mnemonic (1995), Takashi Ishii's Five of Them (1995) and Toshihiro Tenma's Many Happy Returns (1993). During the mid-80s, Kitano starred in the successful made-for-TV feature film Okubo Kiyoshi no Hanzai, which prefigured the cops and yakuzas he would soon perfect in his own films.
Born January 18, 1947 in Tokyo, Takeshi Kitano passed his childhood in the traditional neighborhood of Asakusa. Kitano has said that he holds his father in memory as both mythic and a little disorderly. House painter and maker of lacquer objects, the admired father was also a gambler who suffered great difficulties to feed his family and pay the rent. (Kitano has declared that his father was the inspiration for the lead character in Kikujiro.)
Kitano's mother came from a military family and represented a certain idea of order. Her white-collar dreams for her son guided Kitano into studying science at Tokyo's University of Meiji. In the late 60s, Kitano found himself, without being especially political, in the middle of left-wing protests and other violence of the period.
After leaving university before finishing his degree, Kitano took on assorted odd jobs. While a cashier in a strip joint, he once had to fill in for a cross-dressing comedy sketch. In a neighboring cabaret, he learned to dance, tap and body expression. Experiences like these eventually led to the forming of his stand-up comedy roots.
After an incredibly prolific and diverse 25-year career, Kitano continues to be one of the foremost media personalities in his native country. He still participates in eight TV programs weekly. He has written a number of novels and collections of short stories, essays and poetry. Also an accomplished cartoonist and painter, Kitano's artwork can be seen in Hana-Bi and Kikujiro. More surprising still, Kitano also sponsors an amateur baseball team, for which he even sometimes plays.
When asked how he finds the time to manage all these activities, Kitano replied: "I don't have the impression I'm working. I'm only looking to have some fun."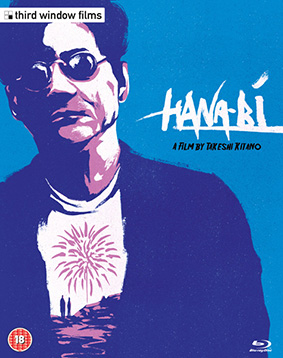 Hana-Bi
Former Police officer Nishi feels responsible for the shattered lives of his loved ones. His partner Horibe has been crippled in a disastrous stakeout, a colleague is shot dead by the same villain, and his own wife has a terminal illness. In debt to a yakuza loanshark, Nishi conceives a bank robbery to provide for his partner, help the dead cop's widow, and take one last holiday throughout Japan with his wife and share a final taste of happiness… A highly original crime drama written, directed and starring Takeshi Kitano.
Hana-Bi will be released on UK Blu-ray by Third Window Films on 11th January 2015 at the RRP of £15.99.
Special features:
30 minute documentary from the film's original release

Interview with Takeshi Kitano from the film's original release

New Audio commentary by film critic Mark Schilling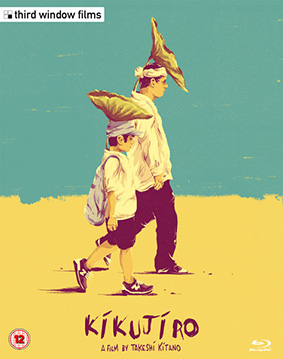 Kikujiro
It's summer and little Masao has no one to play with. With soccer practice suspended and his friends away at the beach, living alone with his grandmother seems even less fun for a nine-year-old boy.
With address and photo in hand, Masao decides to take off in search of the mother he's never met. But with little money and even less sense of direction, Masao can't go alone. A friend of his grandmother volunteers her husband to accompany the boy on his quest.
Kikujiro hardly seems an ideal companion for anyone, let alone for a boy as sensitive as the sullen Masao. Brash, loudmouthed and always on the lookout for easy money, the irresponsible Kikujiro doesn't even appear to be overly fond of children.
Kikujiro's excursion to the cycle races is the first of a series of adventures for the unlikely pair. Theirs will be a whimsical journey of laughter and tears with many a zany surprise and oddball character to meet along the way. All to discover that they have more in common than meets the eye. All to show wide-eyed Masao that the world, as he's known it, is not without magic.
By the bittersweet trip's end, Masao will have collected a wealth of information for his "What I Did Last Summer" project. And for Kikujiro, the heart-warming lesson that sometimes it takes a child's games to help us see exactly what went wrong with our own lives.
Kikujiro will be released on UK Blu-ray by Third Window Films on 22nd February 2016 at the probably RRP of £15.99.
Special features:
Jam Session - 90 minute documentary on Kikujiro directed by the award-winning Japanese director Makoto Shinozaki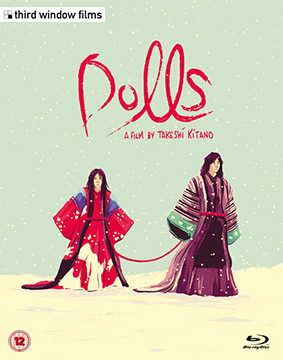 Dolls
Three stories of undying love: Bound by a long red cord, a young couple wanders in search of something they have forgotten. An aging yakuza returns to the park where he used to meet his long-lost girlfriend. A disfigured pop star confronts the phenomenal devotion of her biggest fan.
Dolls will be released on UK Blu-ray by Third Window Films on 14th March 2016 at the probably RRP of £15.99.
Special features:
Interviews with Takeshi Kitano, Miho Kanno, Hidetoshi Nishijima & Yohij Yamamoto

Behind the Scenes

Video from the film's premiere at the Venice Film Festival