Four friends embark on an epic, life-changing adventure. Their aim is to travel on wild mustangs across the American Frontier, from the Mexican to Canadian border through the majestic Grand Canyon, Yellowstone and Glacier National Park.
For their trail horses, they adopt wild mustangs from the US Bureau of Land Management, which are perfectly adapted to the rocky terrain and harsh conditions of desert and mountain travel. Chosen to inspire adoptions from the 50,000 mustangs and burros in holding facilities across the United States and to call attention to the importance of rangeland management, these animals become their riders' transport, nemeses, and eventual trusted companions as men and mustangs traverse the immense landscapes of Arizona, Utah, Idaho, Wyoming, and Montana.
Facing a whole range of adverse conditions including snow, downpours, wildfire, unrelenting heat, raging rivers, sickness, injury and even death – this is a testing journey for riders and horses alike.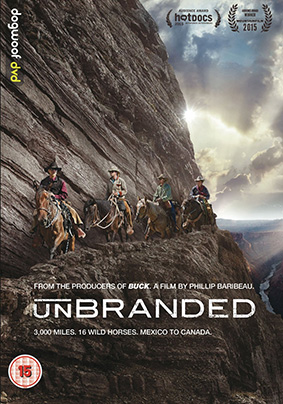 Unbranded, the horse documentary based on Ben Masters best selling book about a 3000-mile journey from Mexico to Canada through America's West using wild horses will be released on UK DVD on 7th December 2015 by Dogwoof at the RRP of £12.99.
No special features have been announced.