Eureka Entertainment has announced the release of King Hu's A Touch of Zen, the ultimate martial arts classic that inspired Crouching Tiger, Hidden Dragon, on Blu-ray & DVD in a Limited Edition (2000 units) 34-Disc Set as part of the Masters of Cinema Series for the first time in the UK in January.
Widely regarded as the greatest martial arts epic of all time, A Touch of Zen won awards worldwide (including at Cannes), smashed box-office records and had an incalculable influence on the genre as a whole.
An unambitious painter named Gu (Shih Jun) lives with his mother in the vicinity of an abandoned mansion rumoured to be haunted. In actuality, the mansion has become a hiding place for the warrior Yang (Hsu Feng) and her own mother, both taking refuge following the assassination of their loyal minister father by the wicked eunuch Wei of East Chamber. After the eunuch sends an army to pursue the escapees, the group fortify the mansion with traps and false intimations of the terrifying ghosts within. But even after, things take yet more unsettling turns...
Famed for its iconic set pieces, including the central bamboo forest battle, A Touch of Zen is one of cinema's truly peerless action sagas and the precursor par excellence of such modern wuxia films as Crouching Tiger, Hidden Dragon and House of Flying Daggers.
"Looking as fresh as if it was made yesterday, rather than three decades ago, A Touch Of Zen is Eastern cinema at its most dynamic and grown-up." – Total Film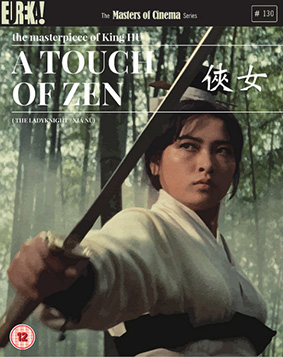 A Touch of Zen will be released on UK Blu-ray and DVD in a Limited Edition (2000 units) 3-disc set on 25 January 2015 by Eureka Entertainment as part of the Masters of Cinema series at the RRP of £27.95.
Release specifications:
Gorgeous new 4K restoration, on both Blu-ray and DVD

New English subtitle translation
Special features:
Limited edition third disc with the documentary King Hu 1932-1997, a new video essay by critic David Cairns, and more

Booklet featuring an interview with King Hu, new writing and more