Arrow Video has announced the UK November Blu-ray and DVD release of the notorious sequel to the underground shocker Nekromantik, Jörg Buttgereit's Neckromantik 2.
Monika isn't like other young women. She shares her small flat with Rob, a recently disinterred corpse which serves as the object of her affections. But then she meets good-natured Mark, and soon finds herself torn between the prospect of a 'normal' life with a living, breathing partner and her overwhelming desire for her rotting bed-fellow.
Once prosecuted in its native Germany for "glorifying violence", Jörg Buttgereit's follow-up to his ground-breaking Nekromantik is just as shocking as its reputation would suggest. But it's also a profoundly moving (if decidedly twisted) love story, and a thought-provoking meditation on death – that most mysterious aspect of the human condition.
One of 2015's most anticipated Arrow Video releases, Nekromantik 2 makes its home video debut in the UK as an exclusive 3-disc digipak featuring Blu-ray, DVD and CD Soundtrack. This exclusive set will be limited to a run of only 3000 copies only and comes with a set of 5 x exclusive 'Polaroid' postcards and a 100-page book, alongside a wealth of extra features.
This 3-disc set comes loaded with exclusive director-approved content including the main feature Nekromantik 2 (1991) and will feature brand new extras especially produced for this release, chief among them, the documentary Masters of Life and Death, alongside new audio commentaries and introductions from director Buttgereit and other key members of the cast and crew including Monika M. Further details listed below.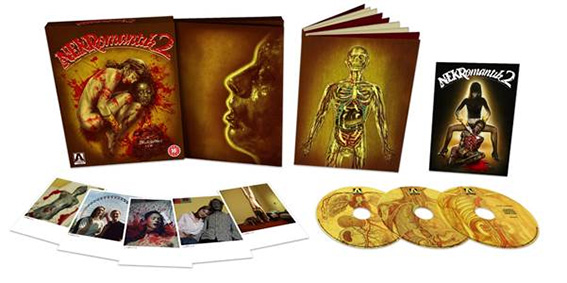 Nekromantic 2 will be released in the UK as a 3-disc dual format (Blu-ray and DVD) edition on 23rd November 2015 by Arrow Video at an as-yet unspecified RRP, though it's currently £22.99 at the Arrow store.
Limited Edition content:
New High Definition transfer approved by director Jörg Buttgereit

High Definition Blu-ray (1080p) and Standard Definition DVD presentations

Original Stereo 2.0 audio (uncompressed PCM on the Blu-ray)

Optional English subtitles

Limited Edition packaging featuring new artwork by Gilles Vranckx

Individually-numbered #/3,000 Certificate

Set of 5 exclusive "polaroid" postcards

Soundtrack CD

Limited Edition 100-page book
Special features – Disc 1 [Blu-ray] and Disc 2 [DVD]:
Audio commentary with Buttgereit, co-writer Franz Rodenkirchen and actors Monika M. and Mark Reeder

Introduction to the film with Buttgereit, Reeder, Monika M. and producer Manfred Jelinski

Masters of Life and Death – a brand new documentary looking at the film's production and release history, featuring interviews with Buttgereit, Reeder, Monika M. and Jelinski

City of the Loving Dead – a walking tour of some of the original Berlin locations with Reeder and Jelinski

Necropolis: Jörg Buttgereit's Berlin – film scholar Dr. Marcus Stiglegger on the significance of the German capital as the backdrop for Nekromantik 2

The Making of Nekromantik 2 – vintage documentary viewable with two different audio tracks: an English track comprising audio interviews with Buttgereit, Rodenkirchen and Monika M., and a German track featuring radio interviews with Buttgereit and Rodenkirchen, with optional English subtitles

Nekro Waltz: The Music of Nekromantik 2 – Reeder discusses his work on the film's score

Outtakes reel

Nekromantik 2 Livekonzert – footage from the 20th anniversary Nekromantik 2 concert, with Monika M. and friends performing the live score

Nekromantik 2 Livekonzert – the complete 20-track audio recording of the concert [BD/DVD-ROM content]

Two Buttgereit short films: Bloody Excess in the Leader's Bunker (Blutige Exzesse im Führerbunker, 1982) and A Moment of Silence at the Grave of Ed Gein (2012)

Two Buttgereit-directed music videos: 'Rise Up' by Die Krupps (1997), starring Monika M., and 'Die Frau in der Musik' by Stereo Total (2007)

Complete collection of Buttgereit feature film trailers

Extensive image gallery
Disc 3 [CD] – Nekromantic 2 soundtrack – Limited Edition exclusive
24-track CD featuring the complete Nekromantik 2 score
100-page book – Anatomy of Desire – Limited Edition exclusive
Exclusive perfect-bound book featuring new writing from Electric Sheep editor Virginie Sélavy, writer Kier-La Janisse and others, as well as a new translation of the article submitted to the German government as part of the Nekromantik 2 prosecution case, all illustrated with new artwork and original archive stills