Two acclaimed British biopics, on two of Literature's greatest figures are to get the High Definition treatment for the first time this December. Boasting impressive ensemble casts, Tom & Viv (starring Willem Dafoe and Miranda Richardson) and Wilde (starring Stephen Fry, Jude Law, Michael Sheen, Vanessa Redgrave and Tom Wilkinson) will be available on Blu-Ray and to download on 14th December from Altitude Film Distribution.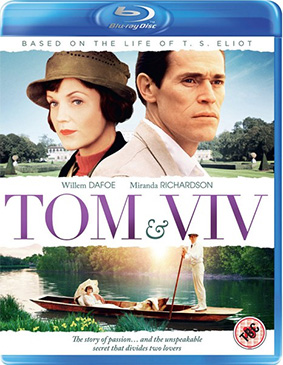 Tom & Viv (1994)
The passionate true tragic love story of T.S. Eliot (Willem Dafoe), one of the greatest poets of the 20th Century, and his first wife, Vivienne (Miranda Richardson), a vivacious society beauty.
After a whirlwind courtship, resulting in a quick marriage, their relationship comes under great strain as Vivienne struggles to handle the extreme hormonal imbalances and the prescribed medicines that went on to cause erratic and eccentric behaviour. As Eliot's career soared, Vivienne's demeanor became increasingly difficult for him and her family to handle, and in a terrible act of convenience and betrayal, finally committed to an asylum…
Nominated for BAFTA Best Film and featuring Academy Award nominated performances from Miranda Richardson and Rosemary Harris, Tom & Viv explores the pain and difficulties that inspired Eliot's finest work, and ultimately celebrates Vivienne as one of English literature's great forgotten muses.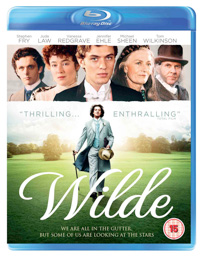 Wilde (1997)
Author, playwright and poet Oscar Wilde (Stephen Fry) returns from a successful 1882 lecture tour of America to wed Constance Lloyd (Jennifer Ehle). However, having accepted that he is in fact attracted to men, Wilde embarks on a long, passionate and tempestuous affair with Lord Alfred Douglas (Jude Law), known as 'Bosie'. Although winning great critical and public success with works such as The Picture of Dorian Gray, Wilde's homosexuality is at ends with his repressive Victorian society and sets him on the path to a very public, brutal fall from grace.
Featuring Stephen Fry in a role he was born to play and a stellar supporting British cast which includes Vanessa Redgrave, Michael Sheen, Tom Wilkinson and Zoe Wanamaker, Wilde celebrates one of English literature's greatest, most flamboyant and tragic figures.
No extra features have been listed for either title.