Charismatic and ruthless businessman, Rick Carver (Michael Shannon), is making a killing by repossessing homes – gaming the real estate market, Wall Street banks and the US government. When he evicts Dennis Nash (Andrew Garfield), a single father trying to care for his mother (Laura Dern) and young son, Nash becomes so desperate to provide for his family that he goes to work for Carver – the very man who evicted him in the first place...
A thrilling fight for survival and an insightful look into the US housing crisis, 99 Homes boasts powerhouse performances from Michael Shannon (Take Shelter, Boardwalk Empire) and Andrew Garfield (The Amazing Spiderman, The Social Network) in a thrilling stand off between profit and family. The film also features Laura Dern, Noah Lomax, Tim Guinee, Cynthia Santiago, Manu Narayan, Cullen Moss and Nadiyah Skyy.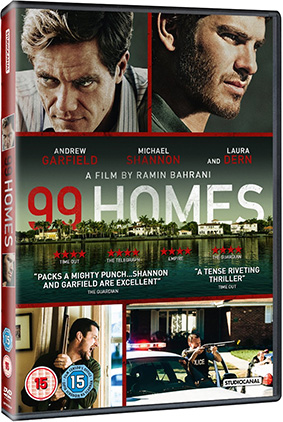 Described by Empire as "Grippong, compelling and heartbreaking," and Time Out as "A tense, rivetting thriller," 99 Homes comes to UK EST on 18th January 2016 and UK Blu-ray and DVD on 25th January 2016.
No extra features have been listed. Can this be right?