Arrow Video has announced the release of one of the key spaghetti westerns of all time, Carlo Lizzani's 1967 Requiescant, presented here in a brand-new stunning transfer and released on Blu-ray and DVD later this month.
Directed by Carlo Lizzani (Wake Up and Kill, The Hills Run Red) and with a superb soundtrack by Riz Ortolani (Day of Anger, Cannibal Holocaust), Requiescant – Latin for 'Rest in Peace' – ranks among the finest Spaghetti Westerns. Alex Cox named it the "one film to prove that the Italian Western was not solely Sergio Leone's".
Lou Castel (Fists in the Pocket, A Bullet for General) plays a young man who was raised to be a pacifist by a travelling preacher after Confederates massacred his family. But when his step-sister runs away, the pursuit reveals a natural talent as a sharp-shooter as well as a bloody and unexpected confrontation with his past.
Joining Castel are an impressive array of performers, including Mark Damon (Black Sabbath, The Fall of the House of Usher) as the sadistic aristocratic villain, Franco Citti (Accattone, The Godfather) as his henchman, and the great Italian filmmaker Pier Paolo Pasolini (Salò) in a rare acting role as a revolutionary priest.
Boating a new transfer taken directly from the original camera negative, this exciting release marks the first time Requiescant will be made available on Blu-ray worldwide. The disc will feature a bonus content including an all-new interview with Lou Castel, recorded exclusively for this release and an archival interview with director Carlo Lizzani.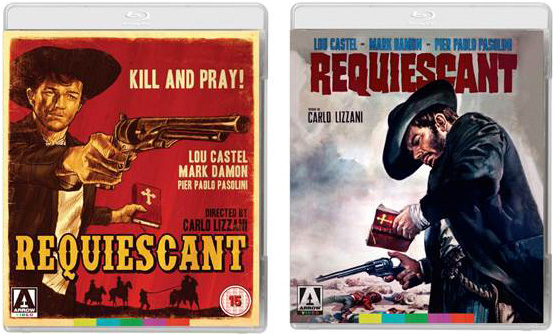 Requiescant will be reelased on UK dual format (Blu-ray and DVD) on 16th November 2015 by Arrow Video at the RRP of £19.99.
Disc info:
Brand new 2K restoration of the film from the original camera negative

High Definition Blu-ray (1080p) and Standard Definition DVD presentations

Optional English and Italian soundtracks in uncompressed PCM mono audio

Newly translated English subtitles for the Italian soundtrack

Optional English subtitles for the deaf and hard of hearing for the English soundtrack
Special features:
An all-new interview with Lou Castel, recorded exclusively for this release

Archive interview with director Carlo Lizzani

Theatrical Trailer

Reversible sleeve featuring original and newly commissioned artwork by Gilles Vranckx

Illustrated collector's booklet containing new writing on the film by Pasquale Iannone