The latest two titles in Network's 'The British Film' collection have been announced for a November home video release: Rome Express is a 1930s thriller starring Conrad Veidt in his first British film role and will be released on Blu-ray and DVD; Dead Lucky is a noir influenced crime thriller direct by Montgomery Tully and will be reelased on DVD only.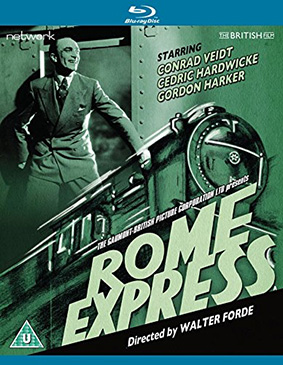 Rome Express (1932)
A sinister character boards the Rome Express on the trail of a valuable Van Dyke painting, recently stolen from a Paris gallery. Much to his annoyance he finds the train populated with a motley assortment of passengers including adulterous lovers, a wealthy philanthropist, a golf fanatic, a French police chief and an American silent-film star – any one of whom could have the painting he desperately seeks…
A key 1930s thriller from director Walter Forde (Ghost Train), Rome Express stars Conrad Veidt (Casablanca) – in his first British film role – alongside Cedric Hardwicke (Rope) and Gordon Harker (The Ring) as intrigue unfolds on the legendary express train that once linked Paris to Rome.
Whimsically scripted by BAFTA-nominee Sidney Gilliat (The Green Man), this seminal adventure would ultimately inspire a genre of thrillers and is presented here in a brand new High Definition transfer from original film elements in its as-exhibited aspect ratio.
Rome Express will be released on 16th November 2015 on UK Blu-ray (RRP £14.99) and DVD (RRP £9.99), courtesy of Network's 'The British Film' collection.
Special features: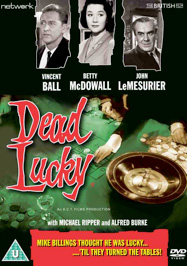 Dead Lucky (1960)
Mike Billings is a journalist working on 'exposures' of Mayfair gambling parties, but so far with little success. When Mike manages to infiltrate his first gambling party he's horrified to see his girlfriend Jenny there in the company of notorious gambler Lucky Lewis. When the party is raided by the police, Jenny leaves with Lucky. Next morning Lucky is found dead – and Jenny admits that she went back to his flat for drinks...
Vincent Ball (Where Eagles Dare), John le Mesurier (Dad's Army) and Alfred Burke (Enemy at the Door) star alongside Australian actress Betty McDowall (The Omen) in this noir-influenced crime thriller which sees a struggling reporter and a fashion editor uncovering double-dealing and murder in Mayfair.
Directed by genre stalwart Montgomery Tully, Dead Lucky is presented in a brand-new transfer from the original film elements, in its as-exhibited theatrical aspect ratio.
Dead Lucky will be released on UK DVD on 16th November 2015 at the RRP of £9.99, courtesy of Network's 'The British Film' collection.
The only listed extra feature is an image gallery.