Arrow Academy is pleased to announce the UK Blu-ray premiere release of Jiri Menzel's much-loved Czech classic Closely Observed Trains. This Academy Award-winning drama (Best Foreign Film, 1968) has been restored by the Czech National Film Archive in a stunning director and cinematographer-approved 4K transfer, and will be released on Blu-ray and DVD this month from Arrow Academy.
Shy teenage virgin Miloš gets his first job as a railway dispatcher and is suddenly forced to confront the realities of the adult world, not least the temptations of the opposite sex. But they in turn are more attracted to his more experienced colleague Hubicka and his distinctive way with an inkpad and rubber stamp…
This could easily have fuelled a light comedy, but Jirí Menzel's bittersweet feature debut is set during World War II in Nazi-occupied Czechoslovakia, and the various farcical goings-on threaten to distract attention from the far more pressing business of staying alive – especially since German trains are being attacked by resistance fighters and everyone is under suspicion of collaboration.
Co-written by the great Czech novelist Bohumil Hrabal (author of the classic source novella), Closely Observed Trains won Menzel a Best Foreign Film Oscar when he was still in his twenties, and it remains one of the best-loved of all Czech films.
Following the acclaimed The Firemen's Ball, this is the second Czech New Wave to come from Arrow Academy in 2015, and the new disc will feature an appreciation of the film by Peter Hames, author of The Czechoslovak New Wave, an appreciation of the other film works of source novelist Bohumil Hrabal by regular Sight & Sound contributor Michael Brooke, and archival interviews with director Jiri Menzel, cinematographer Jaromir Sofr and film historian Jan Lukes.
Ken Loach once described this as his favourite film, and it's easy to see why: comedy and tragedy are kept in perfect balance, not least thanks to the heart-breaking performance of Vaclav Neckar as the teenage railway dispatcher who's keener to lose his virginity than he is to take part in the anti-Nazi resistance movement.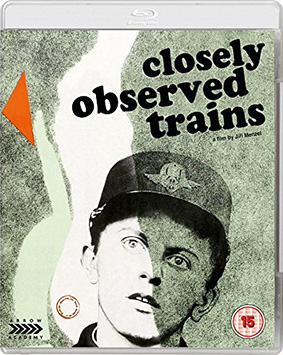 Closely Observed Trains will be released on UK dual format (Blu-ray and DVD) on 16th November 2015 by Arrow Video under their Arrow Academy banner at the RRP of £19.99.
Disc details:
New 4K restoration by the Czech National Film Archive

High Definition Blu-ray (1080p) and Standard Definition DVD presentations

Original Czech soundtrack in uncompressed PCM mono audio

Optional English subtitles
Special features:
Appreciation by Peter Hames, author of The Czechoslovak New Wave

Archival interviews with director Jirí Menzel, cinematographer Jaromír Šofr and film historian Jan Lukeš

Closely Observed Films: Michael Brooke explores the six-film collaboration between Menzel and novelist Bohumil Hrabal

Reversible sleeve featuring two pieces of artwork from the original release