Blind Captain Cat is tormented in his dreams by his drowned shipmates and the innermost thoughts of the inhabitants of a fictional small Welsh fishing village, Llareggub ("bugger all" backwards).
Under Milk Wood is based on Dylan Thomas's classic 1954 radio drama and stars Rhys Ifans (The Amazing Spider-Man, Harry Potter, Mr. Nice) and Charlotte Church. It is directed by Kevin Allen whose iconic Twin Town has become a cult favourite.
This erotic, surreal interpretation is the only cinematic rendition of Dylan Thomas's brilliant, haunting radio play since Elizabeth Taylor and Richard Burton's 1972 film. With an adapted screenplay written by Murray Lachlan Young, Michael Breen and Kevin Allen, Under Milk Wood veers away from the traditional, literal reflection of Thomas's original work. However, whilst staying faithful to Thomas's original text, Allen's cinematic interpretation explores some of the more visceral elements of the funny, filthily fluid, magical dreamscape of his unique work.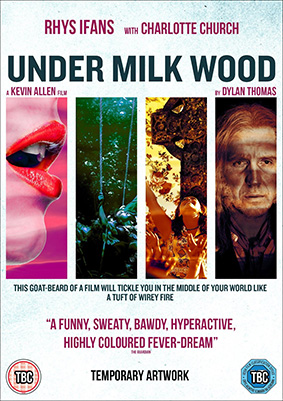 Under Milk Wood will be released on UK Blu-ray and DVD on 16 November 2015 by Metrodome at the RRP of £19.99 for the Blu-ray and £17.99 for the DVD.
Special features:
Dan Y Wenallt (feature film in Welsh language)

Making of Under Milk Wood

Selected tracks