Arrow Video has announced the UK dual format release of The Honeymoon Killers (1969), based on one of the darkest true stories from the annals of American crime, that of the notorious 'Lonely Hearts Killers'.
Two mismatched lovers, overweight nurse Martha Beck (Shirley Stoler – Seven Beauties) and con man Ray Fernandez (Tony Lo Bianco – God Told Me To), concoct a plan to lure unsuspecting victims via lonely-hearts ads. But this is no lip-smacking killing spree but a memorably intense study of loneliness and the lengths to which desperate people will go to keep what they once thought they'd never have.
The only film directed by opera composer Leonard Kastle (with additional material by an uncredited Martin Scorsese), shot in stark black and white and incongruously scored by Gustav Mahler, The Honeymoon Killers is a complete one-off in American cinema. Veteran critic Derek Malcolm wrote "At that time, we'd not seen that kind of film, a super-realist depiction of the banality of evil. It came like a clap of thunder."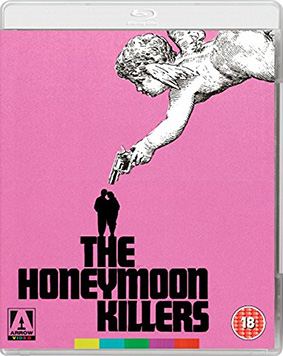 The cult classic The Honeymoon Killers, which François Truffaut once described as the film that had made the deepest impression on him in twenty years, will be released a stunning new 4K transfer on UK dual format (Blu-ray and DVD) on 9th November 2015 by Arrow Video at the RRP of £24.99, but you can pre-order it at the Arrow store for just £17.99.
Disc info:
High Definition Blu-ray (1080p) and Standard Definition DVD presentation of a brand new 4K restoration

Original mono audio (uncompressed PCM on the Blu-ray)

Optional English subtitles for the deaf and hard of hearing
Special features
Love Letters – a video piece by Robert Fischer featuring actors Tony Lo Bianco and Marilyn Chris and editor Stan Warnow

Folie à Deux – Todd Robinson, director of Lonely Hearts, explores the true story of the Lonely Hearts Killers

Body Shaming – Todd Robinson explores the film

Beyond Morality – Fabrice du Welz, director of Alleluia, discusses the film that inspired him

Reversible sleeve featuring original and newly-commissioned artwork by Jay Shaw

Illustrated collector's booklet featuring No Average Killers, Johnny Mains' extensive new essay on the film's real-life inspiration, plus archive materials