From rising Russian star Mikhail Brashinsky comes a 'biting' horror satire targeting consumerism, xenophobia and immigration panic in northern Europe, in a tense, bloody battle for survival.
Unlucky Russian tourists get more than they bargain for when their shopping trip to Finland turns into a fight for survival. According to ancient Finnish tradition, Summer Solstice marks the one day a year when locals eat foreigners...
Brashinsky pokes fun at retail hungry Russians and their idealized Finnish neighbours, playfully imagining that Finland – ranked 'best country in the world' by Newsweek Magazine – might not be so picture perfect after all.
Winner of Critics' Prize, Best Female Performance and Grand-Prix at the Russian National Film Festival 'Window to Europe' and the Special Jury Prize at the Polar Lights International Film Festival in St. Petersburg. A popular film on the international film festival circuit, screening at Sitges International Festival of Fantastic Cinema, Gothenburg International Film Festival and Torino International Film Festival.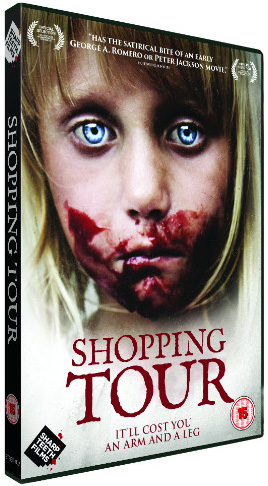 Shopping Tour will be released on UK DVD and VOD on 26 October 2015 by Sharp Teeth Films at an as-yet unconfirmed RRP, but £12.99 is a likely price for the DVD.
No extra features have been listed.