Simply Media have announced the November UK DVD release of two recent but little seen comedy features, the Australian Nice Package and the Brazilian The Man from the Future.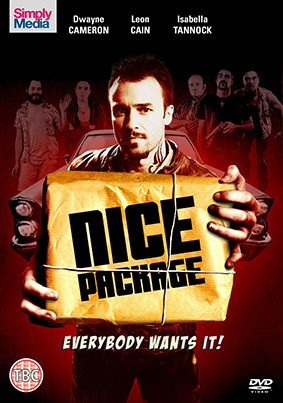 Nice Package (2014)
The best things come in small packages in fast-paced Australian gangster comedy, Nice Package. Starring Dwayne Cameron (The Tribe) and Ashley Lyons (Home and Away) and written and directed by ACS Award Gold winning Dan Macarthur, this humorous, action-packed caper makes its DVD debut following its initial release in 2014.
When professional thief Frostie (Cameron) is caught stealing a precious package, he is forced to take a feisty young woman, Michelle (Isabella Tannock) hostage. Unluckily for him, she knows how to fight back. When he takes her back to the house of his gay best friend (Leon Cain – The Suicide Theory), he can't bring himself to dispense of her, despite pressure from his deranged, yoga-obsessed boss. Now the three of them must face an eccentric rabble of thugs who will do anything to get their hands on the mysterious package.
Produced by Melanie Poole (The Today Show) this fast-paced riot of colourful characters, cool music and razor sharp dialogue is being pushed as Pulp Fiction meets The Hangover, with a dose of The Coen Brothers for extra chaos.
Nice Package will be released on UK DVD on 9th November 2015 by Simply Media at the RRP of £12.99.
No extra features have been listed.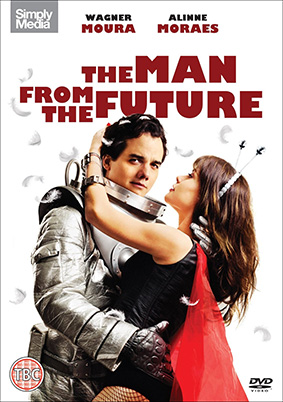 The Man From the Future [O Homem do Futuro] (2011)
Atomic time-travelling romantic comedy The Man From The Future starring award winning Wagner Moura (Elysium) comes to DVD for the first time ever in the UK following its original release in 2011 and its UK premiere at the Sci-Fi London Film Festival in 2013.
Zero (Moura) is a brilliant but bitter scientist still haunted by a college party 20 years ago where he was publicly humiliated and lost the love of his life, Helena. But he soon gets the chance to rewrite history when an accident with one of his inventions opens a portal to the past. Without a second thought Zero seizes the opportunity to rewrite his history, travelling back to 1991 in order to get Helena back. Returning back to the present Zero is horrified to discover that he is now a powerful but corrupt businessman. And Helena is even further away from him than before. Zero's only option is to return to the past...
Filmed in São Paulo and Rio de Janiro, The Man From The Future won the Cinema Brazil Grand Prize Award for Best Visual Effects and Best Sound (2012), is directed by Claudio Torres (The Invisible Woman) and features Alinne Moraes (Coração de Estudante).
Would you risk your future to fix your past?
The Man From the Future will be released on UK DVD on 9th November 2015 by Simply Media at the RRP of £12.99.
Once again, no extra features have been listed.
We've got the trailer, but no English subs I'm afraid.