As part of the BFI's 2015 blockbuster project LOVE in partnership with Plusnet, November will see the Blu-ray release of John Maybury's Love is the Devil (1998) starring Derek Jacobi, Daniel Craig and Tilda Swinton.
Set in the bawdy, decadent world of 1960s Soho, this dazzling and audacious film charts the powerful and dangerous relationship between one of Britain's most controversial artists, Francis Bacon (Derek Jacobi), and his lover and muse, George Dyer (Daniel Craig), to explore the territory where love, sex and art collide.
Amongst a coterie of artists, rent boys and drunks, in studios, casinos and late night bars – including the infamous Colony Room Club, presided over by foul-mouthed patroness Muriel Belcher (Tilda Swinton), Dyer struggles for Bacon's attention, steadily bled dry by drink and drugs.
Derek Jacobi's portrayal of Bacon is precise and mesmerising, whilst Daniel Craig gives a raw, expressive performance as the tough petty thief who became the model for some of Bacon's most intense and celebrated paintings, his ultimate vulnerability throwing his lover's glory into sharp relief.
Winner of a host of international film awards, including Best British Performance for both Derek Jacobi and Daniel Craig at the Edinburgh International Film Festival, the film's exquisite visual style – at once beautiful and grotesque – perfectly captures the extraordinary energy of Bacon's art.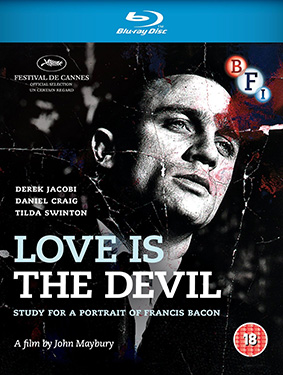 Love is the Devil comes to UK Blu-ray on 23rd November 2015 from the BFI as part of their LOVE blockbuster in partnership with Plusnet at the RRP of £19.99.
Special features:
Audio commentary with John Maybury and Derek Jacobi

Interview with producers Ben Gibson and Chiara Menage (Shona Barrett, 2008, 20 mins)

The Colony – A Documentary Preview (Nick Mead, 2008, 17 mins): a look at the legendary Soho club

Original theatrical trailer

22-page illustrated booklet with essays by Sir Christopher Frayling, Michael O'Pray and Nigel Arthur; full film credits