Stop Making Sense: A band at the peak of their powers. A beautifully staged, carefully choreographed performance. The one with the boom box and Psycho Killer at the start. The Talking Heads one by one joining front man David Byrne on stage. The one where he dances with a lampshade. The one directed by the big name Hollywood director. The one with the big suit at the end.
No wonder Stop Making Sense is rightfully acknowledged as being the best concert film and the best music film ever and is still, more than 30 years after its original release, the yardstick by which all other music films are measured by. Filmed by renowned director Jonathan Demme (Married to the Mob, The Silence of the Lambs, Philadelphia), it captures the Talking Heads' awe-inspiring performance live at Hollywood's Pantages Theatre in December 1983.
Kicking off with the inimitable David Byrne walking onto an empty stage, without even so much as a backdrop, he proceeds to announce "I've got a tape I want to play you" before launching into a mesmerising, stripped back, drum machine and acoustic guitar rendition of Psycho Killer. From here the set and the band literally evolve song by song until both are complete and Byrne appears in his iconic 'big suit'. Capturing the infectious energy and a unique Taking Heads performance, Stop Making Sense is an unforgettable musical and cinematic experience.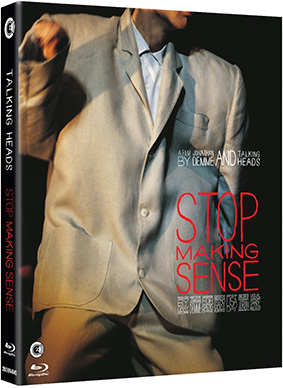 Stop Making Sense will be released on UK Blu-ray and DVD on 16th November 2015 by Second Sight at the RRP of £19.99 for the Blu-ray and £15.99 for the DVD.
Boasting a definitive, restored edition, with more than 60,000 instances of dirt and scratches removed, the release will have these bonus features:
Bonus Tracks – Cities, Big Business/I Zimbra

One hour band press conference

Audio commentary with the band and Jonathan Demme

Once in a Lifetime music video

Four audio mixes: 5.1 and Stereo Feature Film Mix, 5.1 and Stereo Studio Mix