For the production of a new adult video, make-up artist Tsuzuki (Aki Morita) finds herself in all sorts of chaos when she ends up as the only person taking care of a large and varied cast of adult video stars. From the low-end, 'will do anything' Sugar Sato (Mariko Sumiyoshi) to the stuck-up pro Masami Ayase (Beni Ito), seasoned nymph Masako (Riri Kuribayoshi) and the shy newbie Toshiko (Nanami Kawakami), Tsuzuki must navigate a minefield of egos, controlling directors, production issues and more to keep the cast and crew calm during a long and tiresome shoot!
All shot in just one room and starring many real-life adult video actresses, director Kei Morikawa looks at his own experiences as a director in the adult video industry to make a smart, funny and touching comedy of Japan's porn industry!
Shot in just 2 days with a budget of $2000, Makeup Room [Meikurûmu] has still gone on to be a hit at many international film festivals.
After working as an assistant director, production assistant and camera operator, Kei Morikawa joined production company E-Staff Union, established by the famous pink and AV (Adult Video) director Rokuroh Mochizuki. Morikawa has directed over 1,000 AV films and his latest work, Ekusute Musume Gekijoban, (roughly translated to 'The Girl of Hair Extensions' – a play on the Sion Sono film EXTE), in which Tomomi Nakatsuka, a former AKB48 member, plays the lead role.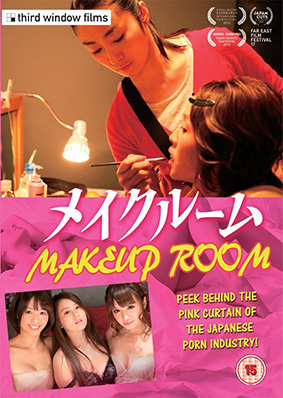 Makeup Room will be released on UK DVD on 26th October 2015 by Third Window Films at the RRP of £12.99.
Extra features will include:
Interview with the cast and crew