StudioCanal has announced the release of a newly restored version of the classic British WW2 drama, The Captive Heart (1946) for DVD, Blu-Ray and EST release in November.
Produced by Ealing Studios, starring Michael Redgrave and his wife Rachel Kempson and directed by Basil Dearden mere months after the end of the war, The Captive Heart is one of the first films to be made about British POWs. The film was shot in a real British POW camp, Marlag and Milag in Germany, where co-screenwriter Guy Morgan had been held and features actors who had been POWs themselves.
In 1940, Czech soldier Capt. Hasek (Michael Redgrave – The Lady Vanishes, The Dam Busters) is being pursued by the Nazi secret police. To conceal his true identity, he pretends to be a dead British soldier named Capt. Geoffrey Mitchell. But to keep the lie going, he must also write to Mitchell's wife, Celia (Rachel Kempson – Out of Africa, Tom Jones), as her dead husband, from the POW camp where he's imprisoned. Meanwhile, Hasek's fellow prisoners are beginning to suspect that he is not who he claims to be, and so he must convince them that he's not a spy.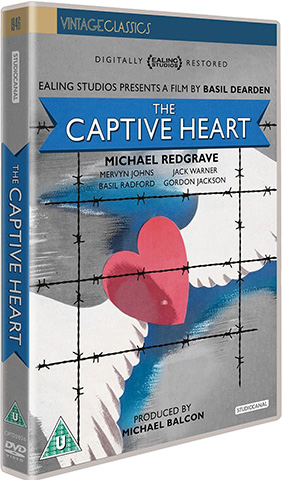 The Captive Heart will be released on UK Blu-ray, DVD and EST on 16th November 2015 by StudioCanal with a digitally restored transfer as part of their 'Vintage Classics' collection at the RRP of £22.99 for the Blu-ray and £17.99 for the DVD.
Special features:
Short film showing the evacuation of liberated British prisoners from Marlag and Milag North Camp (where co-screenwriter Guy Morgan was held during the war), 29th April 1945

Audio interview with war artist John Worsley, a POW held in Marlag and Milag North camp with Guy Morgan

Stills gallery