Palme d'Or winning director Nanni Moretti (The Son's Room, The Caiman, We Have a Pope) returns with Mia Madre, a playful, reflective and intelligent drama.
Set in present-day Rome, the story follows Margherita (Margherita Buy – His Secret Life), a filmmaker attempting to balance her work with her family life. Pulled between the demands of a difficult Hollywood actor (John Turturro, in a scene-stealing role), her teenage daughter and the slow decline of her mother's health, she finds herself struggling to hold everything together. But much like the director's profession itself, she must stay in control right until the final call...
Winner of numerous awards, including the Ecumenical Jury Prize at Cannes 2015, Mia Madre is a subtle, tender and carefully balanced exploration of love, loss and the pressures of modern life.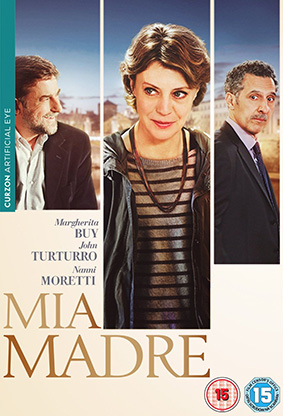 Mia Madre will be released on UK Blu-ray and DVD on 7th December 2015 by Curzon Artificial Eye at the RRP of £19.99 for the Blu-ray and £15.99 for the DVD.
The only listed extra is the theatrical trailer. Speaking of which...