The 1985 cult favourite The Goonies is set to make a return with a Special 30th Anniversary Edition Blu-ray. From the imagination of three time Academy Award-winning executive producer Steven Spielberg and directed by Richard Donner, the special edition Blu-ray of the much-loved adventure will include a number of special features and never-before-seen deleted scenes. For die-hard fans, there is also a 30th Anniversary Collector's Edition, which comes with an array of money-can't-buy Goonies collector's merchandise.
The Goonies plunges a band of small heroes into a swashbuckling, surprise- around-every- corner quest beyond their wildest dreams. Following a mysterious treasure map into a spectacular underground realm of twisting passages, outrageous booby traps and a long-lost pirate ship full of golden doubloons, the kids race to stay one step ahead of a family of bumbling bad guys... and a mild-mannered monster with a face only a mother could love.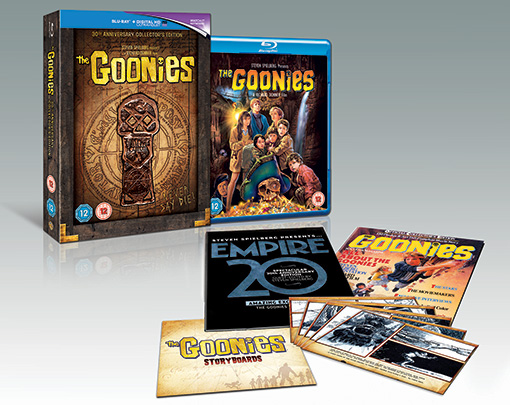 The Goonies 30th Anniversary Edition and 30th Anniversay Collectors' Edition will be released on UK Blu-ray on 9th November 2015 from Warner Brothers at an as-yet unconfirmed RRP, but expect retail prices of £30 and above.
30th Anniversary Edition special features:
Commentary (with hidden video treasures) by director Richard Donner, and selected cast members

The Making Of The Goonies featurette

Deleted scenes

Cyndi Lauper The Goonies 'R' Good Enough music video

Theatrical trailer
The 30th Anniversary Collector's Edition will have those extra features plus the following:
Art Cards

1985 Making of mini magazine

Empire's Cast – Where Are They Now mini magazine
Note: All enhanced content listed above is subject to change.