Arrow Video has announced the UK premiere Blu-ray & DVD release of Miloš Forman's final Czech film, The Firemen's Ball [Horí, má panenko]. This wildly funny and Oscar-nominated comedy, regularly cited as one of the greatest films of the Czech New Wave, has been fully restored in a glorious 4K digital transfer and will be released next week as a dual format Blu-ray and DVD.
It's the annual firemen's ball in a small Czech town, and the organisers decide to liven up the usually dull event with a raffle and a beauty contest. But with the former plagued by thievery and the latter by bribery, the event rapidly descends into farce – and that's before a fire breaks out…
The last film that Miloš Forman (One Flew Over the Cuckoo's Nest, Amadeus) made in his native country and language, The Firemen's Ball is a sparkling comedy that's also one of the best showcases of the director's uncanny ability to extract flawless performances out of an entirely non-professional cast largely made up of actual firemen.
It was nominated for an Oscar, but the Czech Communist authorities were so convinced that it was a satirical allegory about official incompetence that the film was officially "banned forever", or at least until the 1989 Velvet Revolution. It's now regarded as one of the greatest of all Czech films.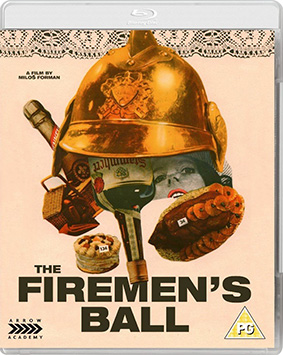 The Fireman's Ball will be released as a UK dual format edition (Blu-ray and DVD) on 12th October 2015 by Arrow Video as part of the Arrow Academy label at the RRP of £15.99.
Featuring a new 4K restoration by the Czech National Film Archive, the original Czech soundtrack in uncompressed PCM mono audio and optional English subtitles, the release will have these special features:
Appreciation by Czech film expert David Sorfa

Archival interviews with director Miloš Forman, cinematographer Miroslav Ondricek and co-writer Ivan Passer

New Wave Faces: Michael Brooke salutes the non-professional actors who made an indelible impression on 1960s Czech cinema

Reversible sleeve featuring two pieces of artwork from the original release