Network have announced the latest two titles for relase as part of 'The British Film' collection: Portrait of Clare, which stars Margaret Todd as Clare, who tells the story of her three successive marriages in flashback; and Romeo & Juliet, the Royal Ballet's production of the classic love story from William Shakespeare.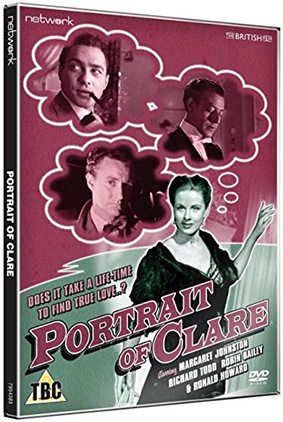 Portrait of Clare (1950)
At the age of 68, Clare is helping her son Steven, now Lord Wolverbury, arrange her granddaughter's engagement party. But Steven and Clare believe the young girl to be marrying on the rebound. Clare questions her and, finding she is not really in love, begins to tell the story of her own life and loves...
The story of three successive marriages told in flashback, Portrait of Clare stars Sydney-born actress Margaret Johnston (Touch and Go) in a memorably engaging central performance.
Also featuring Richard Todd (The Hasty Heart), Robin Bailey (See No Evil) and Ronald Howard (Sherlock Holmes) as the men with whom she has shared joy, sorrow and bitterness, Portrait of Clare is directed by Lance Comfort (Temptation Harbour), an under-appreciated British talent whose work is receiving a long-overdue critical reappraisal.
Portrait of Clare will be released on UK DVD on 26th October 2015 at the RRP £9.99, courtesy of Network's 'The British Film' collection.
Special features:
Image gallery
Original pressbook PDF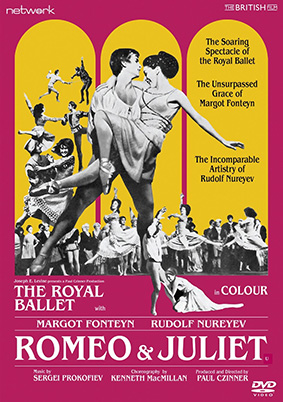 Romeo and Juliet (1966)
A BAFTA and Golden Globe-nominated Royal Ballet adaptation directed by Paul Czinner (Escape Me Never), this celebrated 1966 production features mesmerisingly vulnerable performances from both Rudolf Nureyev and Margot Fonteyn as Shakespeare's star-crossed lovers.
Four years into their joint tenure at The Royal Ballet (Nureyev as Principal Dancer and Fonteyn as Prima Ballerina), this production unequivocally captures on film one of the greatest artistic partnerships of the 20th century.
A ballet masterpiece on many levels – from Prokofiev's stunning score to Kenneth MacMillian exquisite choreography – Romeo & Juliet is presented here as a brand-new transfer from original film elements in its original theatrical aspect ratio.
Romeo and Juliet will be released on UK DVD on 26th October 2015 at the RRP of £9.99, courtesy of Network's 'The British Film' collection.
Special features:
Original theatrical trailer
Image gallery