Receiving rave reviews since its UK Premiere at Sheffield Documentary Film Festival, the London Indian Film Festival and from its theatrical release, Death of a Gentleman takes a close look at test cricket – the purest form of the second most popular sport on earth. It is steeped in tradition, history, heroes and legend. But challenged by its shorter, sexier and more commercial cousin, Twenty 20, it risks falling into obscurity.
To unravel the complex reasons why the game's leaders seem unwilling to save Test Cricket, two friends from opposite ends of the social scale, Old Etonian Sam Collins and larrikin Aussie Jarrod Kimber, embark on a journey across the cricketing empire. Along the way they befriend cricketer Eddie Cowan as he prepares to make his Test debut for Australia in front of 70,000 at The Melbourne Cricket Ground. As a story of deceit, incompetence and greed unfolds, it seems that whilst one man is preparing to live his dream, two others are trying to keep theirs from dying.
Featuring Kevin Pietersen, Rahul Dravid, Michael Holding, Chris Gayle, Jonathan Agnew, David Warner, Ian Chappell, David Lloyd and many more iconic cricketing personalities, Death of a Gentleman is the acclaimed modern morality tale about money corrupting sport, and new power tearing history apart. Says Amol Rajan of the film in the Evening Standard, "Even if you hate cricket, watch this film that says so much about power."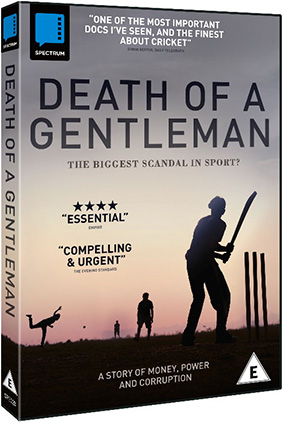 Death of a Gentleman will be released on UK DVD and digital platforms on 26th October 2015 by Spectrum at the RRP of £17.99.
No extra features have been listed.