Arrow Films' highly successful Nordic Noir & Beyond brand is pleased to announce that its growing sub-label Criminale Italia will continue to house quality Italian TV shows with the release of the acclaimed political thriller 1992, which recently aired on Sky Arts.
February 17, 1992: The arrest of Italian politician, Mario Chiesa, on charges of corruption, sets in motion a series of large-scale investigations and trials,that go under the name of "Clean Hands". At the heart of the story aresix ordinary people whose lives are shattered by the socio-political earthquake set in motion by this judicial operation of unprecedented scope and power. These six interwoven storylines compose an engrossing tapestry of Italy's hottest and most dramatic year in contemporary history.
This latest release joins other renowned Italian series on the label such as the critically acclaimed Gomorrah and the recent released Fogs and Crimes and Romanzo Criminale.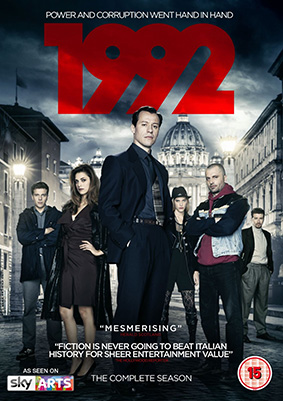 1992 will be released on UK DVD on 26th October 2015 by Arrow Films as a 4-disc set as part of their Nordic Noir & Beyond brand at the RRP of £19.99.
No special features have been listed.
Here's the original Sky Arts trailer, which doesn't tell you much: