Following its cinema distribution and launch on BFI Player during September, the BFI will now be bringing Abel Ferrara's Pasolini (2014), starring Willem Dafoe, to Blu-ray and DVD in October.
Written and directed by cult filmmaker Abel Ferrara (Driller Killer, Bad Lieutenant, The King of New York), this dark, daring drama tells the story of the fateful final day of the controversial filmmaker Pier Paolo Pasolini.
Having recently finished Salò, or the 120 Days of Sodom, Pasolini has enraged audiences, critics and politicians with his outspoken views, overt sexuality and the scandal that surrounds his films. Focusing on both his private and professional life, Pasolini explores the inner world of the filmmaker in the hours leading up to his devastatingly brutal death.
Starring Willem Dafoe (The Last Temptation of Christ) as the great auteur, and featuring Ninetto Davoli, who acted in many of Pasolini's films, Pasolini is a powerful and evocative look into the dark world of one of cinema's most controversial figures, as seen through the eyes of one of modern cinema's most astonishing and surprising directors.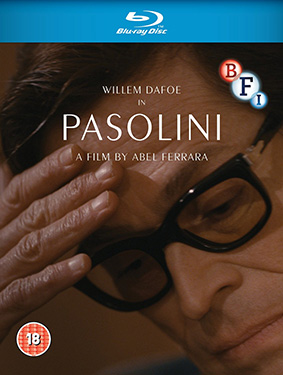 Released by the BFI in cinemas in September, Pasolini comes to UK Blu-ray and DVD on 26th October 2015 from the BFI at the RRP of £19.99 for either edition.
Special features:
Original theatrical trailer

Conversation with Abel Ferrara and the cast of Pasolini (2014, 43 mins): Ferrara, Willem Dafoe, Maria de Medeiros and Giada Colagrande in conversation with Paulo Branco

Robin Askwith on Pier Paolo Pasolini (2015, 23 mins): the actor recounts his first meeting with Pasolini

Illustrated booklet with director's statement and interview, new writing by John David Rhodes, and full film credits