Today Eureka Entertainment have announced they will be releasing A New Leaf, Elaine May's screwball comedy and feature directorial debut starring Walter Matthau, for the first time in the UK in a Dual Format (Blu-ray & DVD) edition as part of The Masters of Cinema Series in December.
One of America's greatest comic legends, Elaine May, made her debut as writer and director in the wonderful A New Leaf. Unanimously acclaimed from the start but unavailable for many years, it now stands as a classic alongside Harold and Maude, Bananas and M*A*S*H as a key film in the new direction of American screen comedy in the 1970s.
The great Walter Matthau stars as Henry, a once-rich playboy who has obliviously spent his entire inheritance. Desperate to marry into further financial support, he meets Henrietta (Elaine May), a shy, awkward, though independently wealthy botany professor. What follows is a giddy tale of dubious legal advice, ruthless skullduggery and ferns.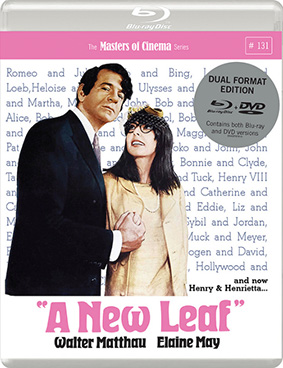 Described by Village Voice as "A film of such wit and comic invention that it belongs among the great American comedies," A New Leaf will be released on UK dual format (Blu-ray & DVD) on 7th December 2015 by Eureka Entertainment at the SRP of £17.95 as part of the Masters of Cinema series.
Featuring a new high-definition digital transfer and uncompressed monaural soundtrack on the Blu-ray, the release will be accompanied by a booklet with new writing and archival images, and more to be announced closer to the release date.