Often pronounced the finest Ealing comedy of all, The Ladykillers is a black comedy that follows the hilarious capers of a group of small-time crooks who take on more than they can handle in the form of their sweet elderly landlord, Mrs Wilberforce (BAFTA Award winning actress Katie Johnson). The criminal gang, posing as a string quartet, are unprepared for their landlord's meddling when one of the 'musicians' cases gets caught in a door, revealing the group's true identity.
The Ladykillers features an impressive all-star lineup: Alec Guinness (Kind Hearts and Coronets, Lavender Hill Mob) plays the gang's mastermind Professor Marcus; Cecil Parker (A French Mistress) is Claude, otherwise known as Major Courtney, Peter Sellers (I'm Alright Jack) is Harry, aka Mr Robinson; Herbert Lom (The Pink Panther) is Louis, aka Mr Harvey; and Danny Green (A Kid For Two Farthings) plays One Round, also known as Mr Lawson.
Set in London's King's Cross, The Ladykillers was filmed extensively in the area, with key scenes shot either directly in or within the backdrop of locations such as; Copenhagen Tunnel, King's Cross Railway Station, Battle Bridge Road and Cheney Road.
Since the film's release back in 1955, The Ladykillers has been imitated in various formats. The Coen Brothers' 2004 feature length adaptation starring Tom Hanks was unable to eclipse the original release. Likewise there has been various stage and radio adaptations which also failed to match the love and critical acclaim attached to the original version.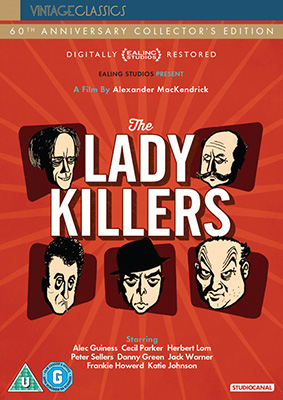 The Ladykillers 60th Anniversary Collector's Edition will be released on DVD, Blu-ray and EST on 26th October 2015 by StudioCanal at the RRP of £22.99 for the Blu-ray and £17.99 for the DVD.
Featuring a full digital restoration of the main feature, the release will have these special features:
New locations featurette

New audio Interview with producer Tom Pevsner

New audio Interview with cinematographer David Peers

New stills gallery

Audio commentary by film historian Philip Kemp

Intro by Terry Gilliam

Forever Ealing documentary

Interview with screenwriter / producer Allan Scott

Interview with Terence Davies

Interview with screenwriter Ronald Harwood

Cleaning up The Ladykillers featurette

Trailer