Dr Steven Monk suspects smallpox when he is asked to examine a patient with unusual symptoms. The diagnosis is quickly confirmed and the authorities mobilise to try to contain the outbreak, with Monk working tirelessly to prevent an epidemic. With his marriage on the verge of collapse, however, this personal crisis threatens to overshadow his vital work as the deadly disease moves ever closer to those he loves…
Richard Johnson and Claire Bloom, multi-award-winning stars of The Haunting, are reunited in this powerful romantic drama set against the backdrop of a smallpox epidemic in the city of Bath.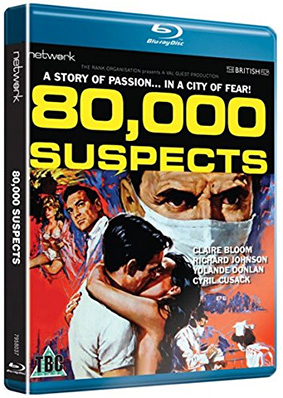 One of BAFTA-winning director Val Guest's (The Day the Earth Caught Fire) most memorable films, 80,000 Suspects will be released on UK Blu-ray at the RRP of £14.99, and on UK DVD DVD at the RRP of £9.99 on 19th October 2015, courtesy of Network's 'The British Film' collection.
80,000 Suspects is presented here in a brand-new High Definition transfer from the original film elements, in its as-exhibited theatrical aspect ratio.
Special features: