Following the success of their most recent foreign language TV drama titles, notably Witnesses, Romazo Criminale and the upcoming return of The Bridge, Arrow Films will continue to house quality international TV shows from various European territories and beyond, under their sub-label 'Nordic Noir and Beyond'.
These new releases will continue with the arrival of the first season of the celebrated Norwegian comedy Dag, as seen on Sky Arts. Released on DVD from 5th October, this new disc will feature all 8 episodes of the popular show which has already seen a second season produced. Dag follows other Nordic comedy shows released via Arrow such as Lilyhammer Season 2-3 and the feature length Klown movie.
Meet Dag, a couples therapist who holds a 90% divorce rate. His philosophy in life is that people should live alone and he's happy to share that with his patients. Dag leads a quiet life and the only thing he loves more than his solitude is prescription drugs. However, Dag's peaceful existence is away to change radically when Eva enters his life.
Dag is a sometimes cynical yet often heart-warming comedy that features a star-studded cast of Norway's most celebrated actors.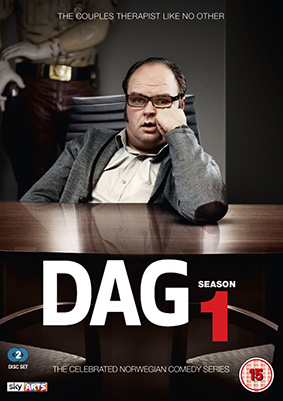 Dag – Season 1 will be released on UK DVD on 5th October by Arrow Films at a yet to be confimed RR, although £17.99 is proving a popular online price.
No extra features have been listed.