Eureka Entertainment have announced the November dual format release of Day of the Outlaw. The last western made by Andre De Toth, it is set in a snowed-in Wyoming town and stars Robert Ryan and Burl Ives.
As in George Stevens' Shane, the place of action of Andre De Toth's demented Western Day of the Outlaw is once again the state of Wyoming and the contested land of the homesteaders. Day of the Outlaw was one of Westerns at the twilight of the studio era in which anything might go, and director De Toth, the creator of two infamous idiosyncratic films – the groundbreaking 3D House of Wax and the naturalistic Sterling Hayden-starring noir Crime Wave – here firmly established his pedigree as one of the maverick directors such as Nicholas Ray for whom boundaries proved only elastic consequence.
The magnificent Robert Ryan portrays Blaise Starrett (surname itself an evocation of the family in the earlier Stevens film Shane) who comes between a landowner (Alan Marshal) and his wife (Tina Louise). But after a band of outlaws ride into town headed by Jack Bruhn (Burl Ives), Starrett must rise to the occasion and defend the hostage townsfolk while redeeming his own advances towards the landowner's wife.
Filmed on a shoestring budget, Day of the Outlaw proved to be an enduring touchstone for the directors of the French New Wave; it came to exemplify De Toth's resourcefulness around budgetary limitations and the (here often snow-strewn) difficulties of the shoot.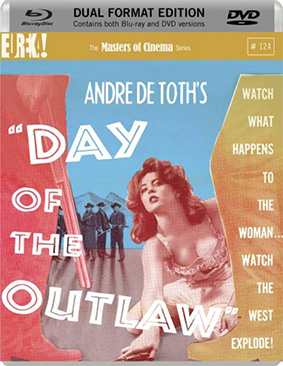 Day of the Outlaw will be released on dual format (Blu-ray and DVD) for the first time anywhere in the world in the UK on 7th December 2015 by Eureka Entertainment as part of the Masters of Cinema series at the SRP of £17.95.
Featuring a glorious 1080p presentation of the film on the Blu-ray and optional English subtitles for the deaf and hard-of-hearing, the release will have these extra features:
A video appreciation by filmmaker Bertrand Tavernier

24-page booklet containing a new essay, vintage writing on the film, the words of De Toth, rare archival imagery, and more!