Universal Music have confirmed the November UK Home Entertainment release of the music documentary Amy. The package will include previously unseen material, special features, live performances and featurettes across DVD, Blu-ray and Digital formats.
The release follows the acclaimed film's record breaking theatrical window, where it premiered at the Cannes Film Festival, screened at the Glastonbury Music Festival and became the highest grossing British documentary of all time at the UK box office.
From BAFTA award-winning director Asif Kapadia and the team behind Senna, Amy tells the incredible story of six-time Grammy-winner Amy Winehouse – in her own words. Featuring extensive unseen archive footage and previously unheard tracks, this strikingly modern, moving and vital film shines a light on the world we live in.
A once-in-a-generation talent and a pure jazz artist in the most authentic sense, Amy wrote and sung from the heart using her musical gifts to analyse her own problems. The combination of her raw honesty and supreme talent resulted in some of the most original and adored songs of the modern era. Her huge success, however, resulted in relentless and invasive media attention which coupled with Amy's troubled relationships and precarious lifestyle saw her life tragically begin to unravel.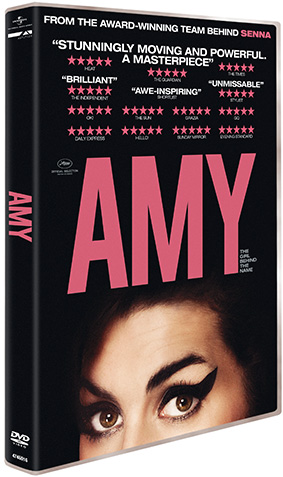 Amy will be released on UK Blu-ray, DVD and gital platforms on 2nd November 2015 at the RRP of (we think) £24.99 for the Blu-ray and £19.99 for the DVD, but this has yet to be confirmed.
Special features on the Blu-ray and DVD:
Audio commentary

Previously unseen footage:

1. Sweet & Sour - Amy & Juliette Ashby
2. Recording with Massive Attack 2001
3. Salaam Remi - Miami 2002
4. Commissioner Gordon - New Jersey 2003
5. Floating Head 2003
6. North Sea Jazz Festival 2004
7. Brits 2004
8. Milan tour 2004
9. North America July 2004
10. Don't Smoke My Weed 2005
11. Mark Ronson - recording Back To Black 2006
12. Mark Ronson - recording Rehab 2006
13. Amy at Koko - Camden 2006
14. Mark Ronson and The Dap Kings – Recording Valerie 20066
15. Joe's Pub NYC 2007
16. Amy: National Security Risk 2008
17. Reg Traviss 2011
Metropolis Studio performances:

Rehab
Love Is A Losing Game
You Know I'm No Good
Teaser trailer

Trailer

Featurette
Blu-ray and iTunes will have all of the above, plus:
Interviews with Yasiin Bey, Mark Ronson, Salaam Remi and Jools Holland
The HMV Exclusive Blu-ray will have all of the above, plus:
To coincide with the Amy home entertainment announcement, the following unseen clip has been released, showing Winehouse and manager Nick Shymansky on an early trip to New York in 2004: