British acting great Albert Finney stars as a slimy hotel owner in The Green Man, a gripping ghostly BBC Two mini series from 1990, which comes to UK DVD next month courtesy of Simply Media.
Maurice Allington (Finney) is the promiscuous and alcoholic owner of a quaint British bed-and-breakfast hotel, the Green Man Inn. In the hope of attracting customers, when he's not trying to seduce them, Allington keeps his guests entertained with tales of ghosts and spirits haunting his hotel, spreading rumours that the ghost of a notorious 17th century occult scientist haunts it. But he and his guests are in for a shock when they realise that the hotel is possessed by some very real and malevolent other-worldly spirits.
At times a sexual farce, at others a ghostly thriller, this BAFTA-winning three-part series is based on the Kingsley Amis 1969 satirical novel of the same name and stars Linda Marlowe (Eastenders, Tinker Tailor Soldier Spy), Sarah Berger (Murphy's Law, Castles), Nicky Henson (Syriana, Downton Abbey) and Josie Lawrence (Whose Line is it Anyway?, Fat Friends).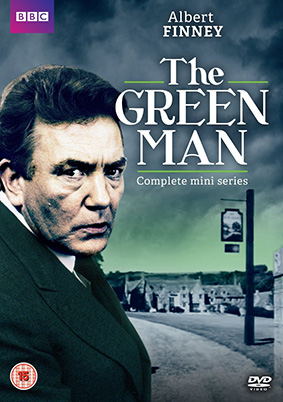 The Green Man makes its UK DVD debut on 5th October from Simply Media at the RRP of £19.99.
No extra features have been listed.