John Steed (Patrick Macnee) and his new secret agent partner Tara King (Linda Thorson) embark on a string of crime solving adventures in the final series of the original cult TV series The Avengers.
Previously available only on DVD, this new box set includes the complete and Uncut series 6, on Blu-ray for the first time with a wealth of special features.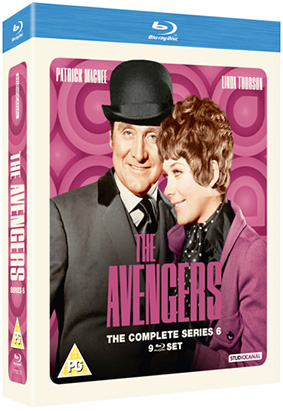 The Avengers – The Complete Series 6 will be released in the UK on Blu-ray on 5 October 2015 by Studiocanal at a currently unconfirmed RRP, but Series 5 retailed at £79.99 so we're taking that as a likely benchmark for now.
Special features will include:
Audio commentary on Split! with director Roy Ward Baker and scriptwriter/producer Brian Clemens

Audio commentary on Love All with scriptwriter Jeremy Burnham and guest star Veronica Strong

Audio commentary on Killer with guest star Jennifer Croxton

Audio commentary on The Morning After with director John Hough

Audio commentary on Game with director Robert Fuest

Audio commentary on Noon Doomsday with Linda Thorson and stunt double Cyd Child

Filmed introductions by Linda Thorson

Introducing Linda Thorson promotional trailer

Girl About Town promotional trailer

Filmed introduction by director Cyril Frankel

Artists test footage to find the replacement for Diana Rigg

Episode reconstructions for series 1 scripts The Springers, The Yellow Needle, The Far-Distant Dead and The Deadly Air

UK animated bumper

Granada+ points for The Forget-Me-Knot

Textless extended closing credits

German opening and closing credits

Stills galleries