When 16-year-old Jay Cavendish (Kodi Smit-McPhee – Dawn of the Planet of the Apes, The Road) comes to the American frontier to search for the woman he loves, he meets mysterious traveller Silas (Michael Fassbender – Shame, 12 Years a Slave, Prometheus), who agrees to be Jay's guide – but for his own dishonourable ends.
As they embark of a journey of hardships and self-discovery, a ruthless outlaw named Payne (Ben Mendelsohn – Animal Kingdom, The Dark Knight Rises, Starred Up) pursues them, hoping to reach Jay's love first and claim the bounty on her head.
A terrific example of a postmodern western, Slow West breaks down the genre to be intelligent, funny, violent, and strangely touching all at once.
As the directorial debut of musician and former Beta Band member John Maclean, it's little wonder that Slow West is so carefully composed. He weaves together the Old West's stark landscapes, a pensive score, and poignant script to create something that's closer to a work of literature than an all-guns-blazing western.
The story is anchored by powerhouse performance from Michael Fassbender, who once again proves why he's this generation's most infallible leading man. There are also career-making turns from Kodi Smit-McPhee and Caren Pistorious, while Ben Mendelsohn once again treads the line between humour and dark menace.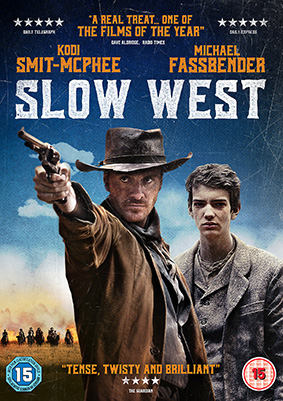 Described as "Tense, twisty and brilliant" by The Guardian, Slow West will be released for UK digital download on 19th October 2015, and on UK Blu-ray and DVD on 2nd November 2015 by Lionsgate at the RRP of £24.99 for the Blu-ray and £19.99 for the DVD.
Speical features:
Deleted scenes

Pitch Black Heist (short film)

Railroad and the Moon (Mood piece)

On Strange Land: Making Slow West

Interviews with Fassbender and Kodi Smit-McPhee

Jameson's Q&A with John Maclean

Slow West in Super Eight

Trailer