Sterling Pictures has announced the UK release of the 2001 Lava in a special, 15th Carnival Anniversary edition, which will be available on digital and DVD next month.
For a film that has orbited from being championed by Mike Leigh to being beloved by the macabre comedy creators Steve Pemberton and Reece Shearsmith, Lava is still as mercurial these 15 Carnivals later... a trippy, profane and bloodstained portrait of chaotic lives recklessly fated when a botched vendetta amid the turbulence of the Notting Hill Carnival spirals helplessly and violently out of control.
This 15th Carnival Anniversary release of Lava reinstates it as one of the most outrageously lurid and bleakly funny rollercoaster rides to ever derail into the dark territory of the psycho-delic. Both shocking and thrilling, comically anarchic yet oddly moving, Lava was described by The Big Issue as "Scary, funny and sad in all the right ways. A very auspicious debut," and The Independent as "A vibrant comic thriller with a vein of cencentrated wit.
Directed by Joe Tucker, Lava stars, well, Joe Tucker, James Holmes and Nicola Stapleton, and features turns from Leslie Grantham and the late, great Tom Bell.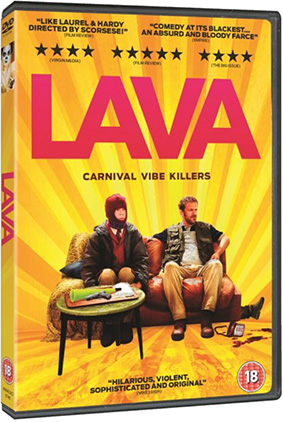 Lava will be released on UK DVD and digital platforms on 12th October 2015 by Sterling Pictures at the RRP of £9.99 for the DVD.
Extra features:
Bungles and Bogles – making-of featurette