Written and directed by Ukrainian filmmaker Myroslav Slaboshpytskiy, The Tribe [Plemya] tells the story of a deaf mute teenager who enters a specialized boarding school where, to survive, he becomes part of a wild organization – the tribe. His love for one of the concubines will unwillingly lead him to break all the unwritten rules within the Tribe's hierarchy.
The story is told purely through sign language without the use of subtitles or voiceover &
features a cast comprised entirely of non-professional, deaf actors including leads Grigory Fesenko as Sergey and Yana Novikova as Anna.
The film received its world premiere at Cannes, dominating the Independent Critics' Week awards, winning the Nespresso Grand Prize, the France 4 Visionary Award and the Gan Foundation Support for Distribution grant.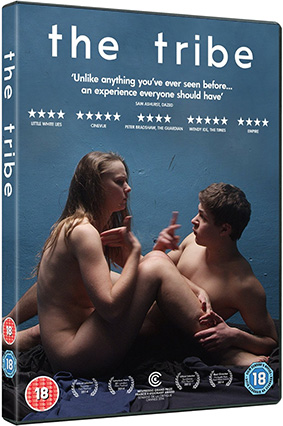 Described by Jonathan Romney in Film Comment as "one of those rare films that you can't quite believe really exist, that demonstrate that cinema still has a few tricks up its sleeve," The Tribe will be released on UK DVD on 14th September by Metrodome at the RRP of £15.99.
The extra features consist of a 3-part behind-the-scenes featurette:
Directing the initiation fight scene
Filming inside the school
Directing without words – working with actors via sign language interpreter