The BFI have confirmed that they will be releasing The Otto Preminger Film Noir Collection as a Limited Edition Blu-ray box set that brings together three of acclaimed director Otto Preminger's greatest films for the first time on Blu-ray. Presented with essential extras, including audio commentaries, these classic films deliver a unique combination of intrigue, moral ambiguity and stylish photography which truly define the influential film noir genre.
In Fallen Angel (1945), Dana Andrews stars as a down-on-his-luck press agent turned amateur sleuth, investigating the murder of the sultry waitress, Stella (Linda Darnell).
Whirlpool (1950) is a fascinating blend of noir and woman's picture, starring the beautiful Gene Tierney as a troubled socialite who falls prey to the machinations of a sinister hypnotist (José Ferrer).
In the downbeat Where the Sidewalk Ends (1950), Dana Andrews again stars as a tough cop whose brutal methods leave a trail of murder, deceit and cover-ups.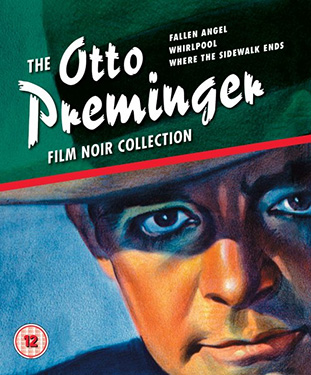 The Otto Preminger Film Noir Collection Limited Edition Blu-ray box set will be released on 28th September by the BFI at the RRP of £59.99.
Special features:
Original theatrical trailers

Audio commentaries for Fallen Angel, Whirlpool and Where the Sidewalk Ends by film scholar and critic Adrian Martin

The Guardian Lecture: Otto Preminger interviewed by Joan Bakewell (1972, 80 mins, audio with stills): the director talks about his career in film in this discussion with the English journalist

Illustrated booklet with essays by Edward Buscombe and full film credits