Arrow Video has announced the UK Blu-ray release of Zardoz, director John Boorman's cerebral and eerily dystopian sci-fi tale. Released in 1974, not long after Boorman's iconic Deliverance and before his fateful heming of Exorcist II: The Heretic, Zardoz saw the director team up with Sean Connery, three years after his final official appearance as James Bond and light years away from anything either had done before.
The year is 2293. Society as we know it has broken down centuries ago with the Earth's population split into three classes: the Brutals, who work the land and are forbidden from reproducing; their overseers, the Executioners; and the highly-civilised Eternals, who are protected from the outside world by a force-field. But when an Executioner, Zed (Sean Connery, light years from James Bond), smuggles himself into their isolated paradise, he risks unbalancing the system and threatening the status quo...
Photographed by Geoffrey Unsworth (2001: A Space Odyssey, Superman: The Movie) and designed by Anthony Pratt (Excalibur), dystopian science-fiction has rarely looked so beautiful – or been so odd – as it appears in Zardoz.
Zardoz will debut on Blu-ray in September and comes presented in a brand new 4K transfer. The disc will feature a wealth of bonus content including newly-shot interviews with key members from every aspect of the film's production and an audio commentary by writer-producer-director John Boorman. Zardoz mega-fan Ben Wheatley (Kill List, A Field in England) also provides an on-camera appreciation recorded especially for Arrow Video.
This exciting release comes packaged together with newly commissioned artwork by Matthew Griffin and a fully-illustrated collector's booklet featuring brand new writing on the film by Julian Upton and Adrian Smith, who explores Boorman's novelisation, plus archive interviews, all illustrated with original stills.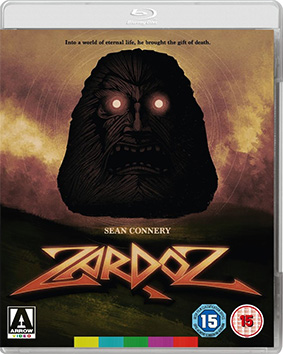 Zardoz come to UK Blu-ray on 21st September 2015 from Arrow Video at the RRP of £17.99.
With a new 4K digital restoration by Twentieth Century Fox, supervised and approved by John Boorman and optional English subtitles for the deaf and hard of hearing, the disc will have these special features:
Audio commentary with writer-producer-director John Boorman

Brand new interviews with Boorman, actor Sara Kestelman, production designer Anthony Pratt, special effects creator Gerry Johnston, camera operator Peter MacDonald, assistant director Simon Relph, hair stylist Colin Jamison, production manager Seamus Byrne, and assistant editor Alan Jones

Newly filmed appreciation with director Ben Wheately

Theatrical trailer

Radio spots

Reversible sleeve featuring original and newly commissioned artwork by Matthew Griffin

Collector's booklet containing new writing on the film by Julian Upton and Adrian Smith, plus archive interviews, illustrated with original production stills