Beneath the fake blood and cheap masks of countless haunted house attractions across the country, there are whispers of truly terrifying alternatives. Looking to find an authentic, blood-curdling good fright for Halloween, five friends set off on a road trip in an RV to track down these underground Haunts. Just when their search seems to reach a dead end, strange and disturbing things start happening and it becomes clear that the Haunt has come to them...
Known elsewhere more as the altogether more intriguing The Houses October Built, The Houses of Halloween (well, Halloween is in October...) looks to take the found footage format a step further, building its story around the phenomenon of haunted tourist attractions (even interviewing staff from real-life attractions), but also using a cast of actual filmmakers, most of who have worked behind the camera until now.
The film has had a lukewarm reception in the horror community, but Brutal as Hell described is as "a fun and spooky adventure" and Terror Vault described it as "a good time for those looking for a quick scare or for those looking for a holiday themed film for next Halloween."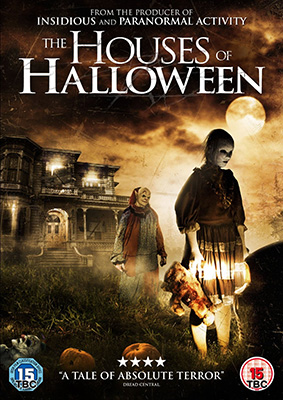 The Houses of Halloween will be released on UK DVD on 5th October 2015 by Kaleidoscope Home Entertainment at a yet to be confirmed RRP.
No extra features have been listed.