Following its successful theatrical release, Reg Traviss' hard-hitting Anti-Social makes its DVD debut along with its brand new, eclectic soundtrack, featuring never heard before material, as a free download, courtesy of Spirit Entertainment.
Grime stars Devlin and Skepta make their acting debuts in key roles in this slick film from Traviss, an established director with titles such as Joy Division and Screwed among his feature film credits.
Inspired by the spate of smash and grab robberies that hit the news between 2012 and 2013, this action-packed gangland thriller is set amidst London's sub-cultures, with Dee (Gregg Sulkin), an anarchic graffiti artist confronting the system, and his brother Marcus (Josh Myers), a smash and grab robber, trying to make it rich with a jewellery store crime wave. For the pair being anti-social is a way of life.
As Dee finds acceptance with the city's art scene, Marcus becomes a rising underworld face and his ambitions escalate. But when a savage gang war erupts, Dee is forced to remember who he is, as police and rival criminals close in on the family, and Marcus' gang defiantly prepare to take down the largest target of their careers.
Sulkin (Sixty-Six, Faking It) and Myers are joined by a cast of new and established British acting talent, including This Is England's Andrew Shim, Sophie Colquhoun (The Inbetweeners, Plebs), Richie Campbell (Anuvahood, Waterloo Road), Caroline Ford (Lake Placid, Sleepy Hollow) and Doug Allen (Band of Brothers, Chasing Shadows). American star of Suits, Meghan Markle features in a major role as Dee's girlfriend Kirsten, alongside renowned German actor Christian Berkel (Downfall, Inglorious Basterds) and singer Lisa Moorish.
The stand out soundtrack is made up of a composed score by George Kallis (Highlander, Mandela: Long Walk To Freedom) and original music which reflect the sub-cultures with a combination of Indie-Punk and Dance, Hip-Hop and Ska. The composed tracks were written by various musicians who came together to work on the film, many of the tracks were written and recorded by Babyshambles's Drew Mcconnell and Adam Falkner and The King Blues's Johnny 'Itch' Fox. Other artists include, Massive Attack's Shara Nelson and rapper Rodney P. The soundtrack will be included with the DVD as a free download and includes exclusive new tracks.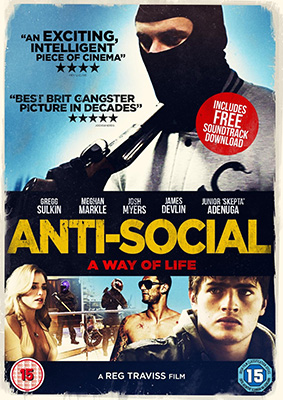 Anti-Social will be released on UK DVD on 14 September 2015 by Spirit Entertainment at the RRP of of £15.99.
Extra features will include:
'Modern Outlaw' Documentary (Real Crimes behind "Anti Social")

Behind the scenes interview with Greg Sulkin

Behind the scenes interview with Devlin

Behind the scenes Interview with Skepta

Behind the Scenes Interview with Reg Traviss

Music Promo of Is It Gangsta? "Yes Yes Yes" By Giggs
The soundtrack listing is:
Going South – Drew McConnell/Adam Faulkner/Mark Neary
Too Late – Itch
Johnny The Rebel – Drew McConnell /Adam Faulkner/Mark Neary
Circles – Preditah
Witch Hazel – Frankie Foreman
Money – Dukus Alemay & Notes Forrelli
The Struggle – Dukus Alemay & Back4Yard Bully
Ska Social – Johnny Rock
Big Screen – Itch
White Boy Brown Girl – Kill City & Lisa Moorish
Streets – Ryan Laubscher
We Alright – Itch
Eat The Rich – Itch
That Girl – Dukus Alemay & Sian Mullard
Up Tempo Riddim – Dukus Alemay
Heart Beat – Dukus Alemay & Cherri V
Crack Pipe Baby – Jake Vegas
Power – Dukus Alemay & Oshin Mehta
Is It Gangsta, Yes, Yes, Yes – Giggs
Look What The Cat Dragged In – Giggs
Pump Pump – Urban Monk
Matola – Rodney P
Looking Back – Shara Nelson
RBS – Serocee
If You Wanna – Drew McConnell
Long Way Home – Drew McConnell
Exclusive tracks from Devlin and Giggs to be confirmed.