When a retired Triad boss faces threats to his legitimate business from a property development scheme backed by a rival gang, he has no choice but to dive back into the violent Hong Kong underworld one last time. Reunited with his former gang associates, they must settle old scores together and fight for what's theirs – can loyalty and honour still win the day?
Gangster Payday [Da cha fan] harks back to the rich history of Triad films during Hong Kong's 80's and 90's golden age. With cameos from some real life gangsters and starring cult favourite Anthony Wong (Ip Man: The Final Fight, Infernal Affairs, The Mission), the film portrays an aging mob boss, struggling to adapt his values of honour and loyalty, to a fast changing Hong Kong.
The film also features Charlene Choi (The Midas Touch, Treasure Inn, New Police Story), Wong You Nam (The Midnight After, Gallants, Ip Man) and Carrie Ng (Naked Killer).
Director Lee Po Cheung made this statement:
"Time goes by so fast, and I have now been part of the film industry for many years. I had taken part in numerous large-scale productions involving hundreds of actors, with bullets whizzing by every which way. However, the films that most move me are those that feature our distinctive Hong Kong sentiments and wit. I believe that whatever is worth preserving should be preserved. I hope Hong Kong cinema will survive in the increasingly challenging environment."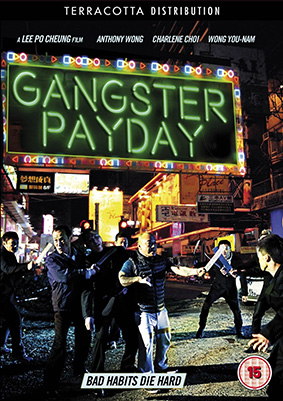 Gangster Payday will be released on UK DVD on 28th September 2015 by Terracotta Distribution at the RRP of £15.99.
The only listed extra feature is:
Exclusive interview with director Lee Po-cheung
Here's the Hong Kong trailer, which sells the film as a straight-up crime thriller: