Arrow Video have confirmed their next two dual format titles for UK release in just over a week's time: 80s summer camp horror Madman and Umberto Lenzi's bonkers Nightmare City.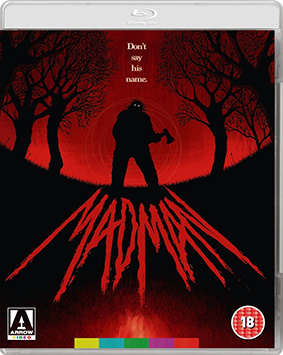 Madman (1982)
Gather around the campfire, and hear the tale of Madman Marz: an ill-tempered old farmer who, one dark night, chopped up his wife and two children into pieces. When the locals caught wind of his heinous crime, they meted out revenge – sinking an axe into his head and hanging him from a nearby tree. But the next day, Marz's body was gone...
Thus the camp counsellor finishes his tale, closing with the warning never to say Marz's name above a whisper, lest the hideously-deformed farmer comes looking for them… Naturally, of course, the first thing that one of the young campers does is to call out Marz's name – precipitating a terrifying night of murder, mayhem and sexy Jacuzzi vignettes!
Inspired by the same Cropsey urban legend which informed its slasher peer The Burning, Madman stands as one of the very best of the camp-based terror flicks and was a clear influence on Hatchet, Adam Green's love letter to the slasher genre.
Madman will be released on UK dual forma (Blu-ray & DVD) on 24th August 2015 by Arrow Video at the RRP of £24.99.
Fearturing:
Brand new 4K transfer from the original camera negative

High Definition Blu-ray (1080p) and Standard Definition DVD presentations

Original Mono audio (uncompressed PCM on the Blu-ray)

Optional English SDH subtitles for the deaf and hard of hearing

Audio commentary with director Joe Giannone, Madman stars Paul Ehlers and Tony Fish and producer Gary Sales

New Audio Commentary by The Hysteria Continues

The Legend Lives: Thirty Years of Madman – 90 minute documentary featuring interviews with cast and crew

New interview with producer Gary Sales

New interview with actor Jimmy Steele

New interview with Madman star, Paul Ehlers

New Rare Acoustic Recording of the song inspired by his first viewing of Madman, 'Escape From Hellview', written, produced and performed by former CKY frontman, Deron Miller

Theatrical trailers

TV spots

Stills gallery

Reversible sleeve featuring original and newly commissioned artwork by Matt Griffin

Collector's booklet featuring new writing on the film, illustrated with original archive stills and posters
Plus more, we are assured.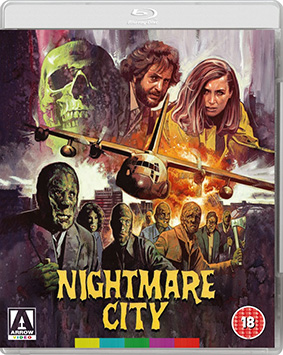 Nightmare City [Incubo sulla città contaminata] (1980)
Long before zombies took up jogging in 28 Days Later and Zack Snyder's Dawn of the Dead remake, they were brandishing axes and other sharp implements in Umberto Lenzi's utterly insane radiation-sickness opus Nightmare City.
In true Zombie Flesh Eaters form, our story begins with the arrival of an ominous, seemingly unmanned craft – in this instance, a military plane making an unscheduled landing at a European airport. Upon forcing the aircraft doors open, the waiting soldiers get a nasty shock when out bursts a horde of flesh-hungry, pizza-faced radioactive ghouls. The walking dead are here, and they're hungry!
Counting amongst its fans the likes of Quentin Tarantino and Eli Roth, Nightmare City (aka City of the Walking Dead) is a bonkers slice of Italian zombie carnage from the man who shocked the world with the notorious Cannibal Ferox.
Nightmare City will be released on UK dual forma (Blu-ray & DVD) on 24th August 2015 by Arrow Video at the RRP of £24.99.
Featuring:
Brand new 2K restoration of the film from the original camera negative

Alternative High Definition transfer from the 35mm reversal dupe negative

High Definition Blu-ray (1080p) and Standard Definition DVD presentations

Original Italian and English soundtracks in mono audio (uncompressed PCM on the Blu-ray)

Newly translated subtitles for the Italian soundtrack

Optional English subtitles for the deaf and hard of hearing for the English soundtrack

Brand new audio commentary by filmmaker, Fangoria editor and Nightmare City fan Chris Alexander

Radiation Sickness – a brand new interview with director Umberto Lenzi

Sheila of the Dead – a brand new interview with star Maria Rosaria Omaggio

Zombies Gone Wild! – director, producer and actor Eli Roth on Nightmare City and the wild cinema of Umberto Lenzi

Nightmare City and The Limits of Restoration – featurette looking at the differences between the two transfers included on this release

Alternate opening titles

Original trailer

Reversible sleeve featuring original and newly commissioned artwork by Graham Humphreys

Collector's booklet featuring new writing on the film by John Martin, author of Seduction of the Gullible: The Truth Behind the Video Nasty Scandal, illustrated with original archive stills and posters