Eureka Entertainment has announced the October Dual Format Box Set release of The Shohei Imamura Masterpiece Collection, eight masterpieces of Japanese cinema from one of the greatest directors to emerge from Japan.
From his first film through to one of his last, this collection brings together eight masterpieces of Japanese cinema from the career of Shohei Imamura that spans more than forty years, presented in a deluxe box set featuring Vengeance is Mine, The Ballad of Narayama, Profound Desires of the Gods, The Insect Woman, Nishi-Ginza Station, Pigs & Battleships, Stolen Desire and A Man Vanishes.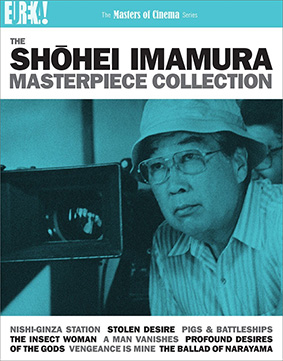 Vengeance is Mine [Fukushû suru wa ware ni ari] (1979)
Based on the true story of Iwao Enokizu (Ken Ogata) and his murderous rampage which sparked a 78-day nationwide manhunt, Shohei Imamura's disturbing gem Vengeance Is Mine won every major award in Japan on the year of its release. Both seducing and repelling with its unusual story and grisly humour, Imamura uncovers a seedy underbelly of civilised Japanese society. (Blu-ray & DVD)
The Ballad of Narayama [Narayama bushikô] (1983)
A vividly realised inverse image of "civilised" society, The Ballad of Narayama presents a bracingly unsentimental rumination on mortality and an engrossing study of a community's struggles against the natural elements. It is one of the legendary director's deepest, richest works (for which he won his first Palme D'or), and ranks among the finest films of its decade. (Blu-ray & DVD)
Profound Desires of the Gods [Kamigami no fukaki yokubô] (1968)
The culmination of Imamura's extraordinary examinations of the fringes of Japanese society throughout the 1960s, Profound Desires of the Gods was an 18-month super-production which failed to make an impression at the time of its release, but has since risen in stature to become one of the most legendary – albeit least seen – Japanese films of recent decades. (Blu-ray & DVD)
The Insect Woman [Nippon konchûki] (1963)
Comparing his heroine, Tome Matsuki (played by Sachiko Hidari, who won the "Best Actress" award at the 1964 Berlin Film Festival for the role) to the restlessness and survival instincts of worker insects, the film is an unsparing study of working-class female life. Beginning with Tome's birth in 1918, it follows her through five decades of social change, several improvised careers, and male-inflicted cruelty. (Blu-ray & DVD)
Nishi-Ginza Station [Nishi Ginza ekimae] (1958)
Serving as a vehicle for popular singer Frank Nagai, Nishi Ginza Station tells a whimsical story about a conservative man who daydreams about romancing a native woman on a deserted island. In reality, he works at a drugstore owned by his wife. The film is one of the earlier comedies directed by Shohei Imamura. (Blu-ray & DVD)
Pigs & Battleships [Buta to gunkan] (1961)
Imamura finally answered his true calling as Japanese cinema's most dedicated and brilliant chronicler of society's underbelly with the astonishing Pigs and Battleships. A riotous portrait of sub-Yakuza gangsters battling for control of the local pork business in the U.S. Navy-occupied coastal town of Yokosuka, Imamura conjures a chaotic world of petty thugs, young love, tough-headed women, and underworld hypochondria, with one of the most unforgettable climaxes ever filmed. (Blu-ray & DVD)
Stolen Desire [Nusumareta yokujô] (1958)
This cinematic gem is Shohei Imamura's first feature film. In this rambunctious story adapted from Toko Kon's novel Tent Theatre, a troupe of actors travel from town to town, putting on shows for the local community. They reel in crowds with strip shows, but the company's passion lies with the theatre. (Blu-ray & DVD)
A Man Vanishes [Ningen jôhatsu, or The Unexplained Disappearance of a Human Being] (1967)
It is difficult to summarise Shôhei Imamura's legendary 1967 film, the first picture produced by Japan's countercultural Art Theatre Guild (ATG). Is it a documentary that turns into a fiction? A narrative film from beginning to end? A record of improvisation populated with actors or non-actors (and in what proportion)? Is it the investigation into a true disappearance, or a work merely inspired by actual events? Even at the conclusion of its final movement, A Man Vanishes mirrors its subject in deflecting inquiries into the precise nature of its own being. (DVD only)
The Shohei Imamura Masterpiece Collection will be released as a dual format box set (Blu-ray and DVDl) on 19th October 2015 by Eureka! Entertainment as part of the Masters of Cinema series at the SRP of £47.95.
This 12 Disc Box Set will be presented in a high quality rigid slipcase containing 5 Blu-rays, 6 DVDs & 1 CD and feature gorgeous 1080p HD presentation of each film on Blu-ray (A Man Vanishes will be DVD only) and optional English subtitles.
Special features:
Accompanying CD featuring digital PDF booklets including essays and rare stills for each of the films

Original Japanese theatrical trailers

interviews & introductions featuring Imamura, Alex Cox, film scholar Tony Rayns & critic Tadao Satô

Audio commentary on Vengeance in Mine by film scholar Tony Rayns